B4RN to deploy 1Gbps fibre network to rural parishes in Lancashire
Thursday, August 18, 2011 12:35 PM
A community cooperative calling itself B4RN, 'Broadband For the Rural North,' is gauging interest in the deployment of a fibre-to-the-home (FTTH) network which will offer symmetric Gigabit speeds for £30 a month with a £150 connection fee. B4RN is based in the north of Lancashire and is looking to provide coverage to eight rural parishes around Lancaster and partial coverage of a 9th. This includes: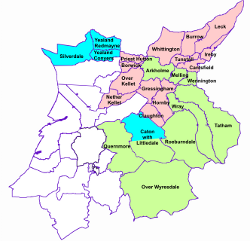 click for larger map
Over Wyresdale - 131 properties (100% of parish)
Quernmore - 350 properties (100% of parish)
Roeburndale - 34 properties (100% of parish)
Wray with Bottom - 237 properties (100% of parish)
Tatham - 178 properties (100% of parish)
Wennington - 50 properties (100% of parish)
Melling with Wrayton - 151 properties (100% of parish)
Arkhome with Cawood - 160 properties (100% of parish)
Littledale - 31 properties (sub area of Caton with Littledale parish)
The group will rely on community funding through a share issuing and help providing labour to install the network to 1322 homes and businesses by 2012 which it estimates will cost £1.86 million. No properties will be left out of the deployment for being too far away. A significant proportion of this cost (over £500k) is marked out as labour, which could be saved by local residents donating their time to help dig trenches and install ducting. The full three phases of the project aims to reach 5162 properties, costing £5.569 million in total over 3 years, a cost in the region of £1100 per property. A full business plan has been set out which can be read over at the B4RN website. For now, they are currently trying to spread the word and will be looking to do a formal share offer in October. If all goes to plan, the digging will begin in December, with homes to be connected up from January onwards.
Comments
Post a comment
Login
Register