Protecting your children from the dangers of the Internet can seem a daunting task. By following a few basic guidelines you can help protect and educate your children on how to stay safe online.
Know about the Internet
The Internet is an immense resource that can be used for good and bad. It's important to know what you are up against so understanding what the Internet can offer and what your children are likely to use will put you in a better position to advise them. Courses may be available in your area or online which can teach you more about the Internet and help you guide your children's use.
Most importantly of all, accept that keeping your little (and not so little) ones safe on the Internet is your responsibility as a parent; you may find tools to help you make this job easier both in your operating systems and offered by your provider, but none of these will remove all risks of what your children may get up to on the Internet (not least because kids are inquisitive and find ways around restrictions you may put in place). Would you let them roam the streets of a foreign country without supervision? The Internet is global and you should treat it as such.
Talk to your children
The most important thing you can do to protect your children online is to educate and talk to them about Internet safety. They should know that they can always come to you if they have a concern or question and should not be embarrassed to ask.
Ask them what they do on the Internet and what kind of websites they use.
If your children use chat rooms and instant messaging make sure they know the people they are talking to might not be who they say they are and they should not meet people they have met online without talking to you first or share personal information with them.
'Social networking' sites (such as Facebook, MySpace and Bebo) are very popular among teens to keep in touch with friends, even though many do not officially allow them to sign up until a certain age. These sites may encourage children to give out personal information, but do also have privacy settings to ensure that your profile can only be viewed by people you know, and parents should encourage the use of this.
When educating your children you should not just make them aware of inappropriate material and people on the Internet but also make sure they understand that they should not run applications they do not trust or give out personal information to people they do not know and trust.
Be watchful
You should locate their computers in living room or other communal areas to monitor their Internet activity, this is especially important for younger children, this will also enable you to better educate your children while they use the Internet.
You should also be concious of Internet access on mobile phones as this is a lot harder to monitor and most phones will come with some sort of Internet access.
Don't forget about the gadgets!
It's not just computers that connect to the Internet these days; tablets, e-readers, mobile phones, televisions, Sky TV boxes, DVD players, radios, speaker systems, online assistants, kitchen appliances and many toys! You need to take into account that inappropriate content could arise from any of these tools. Remember tablets and mobile phones may also access the Internet through a mobile connection (not on your home wi-fi and therefore possibly not covered by any broadband supplier or router tools). Similarly that old tablet you've given your kids might allow them to connect to public wi-fi hotspots (be it your neighbour's or another one when out and about).
For example, there is a YouTube video where the family is watching a young child asking their new Amazon Alexa assistant to 'play Tigger Tigger', and Alexa responding with offering to play a ringtone of adult nature. (Search for "Amazon Alexa Gone Wild" if you want to find it).
App Store Accounts, online shopping, etc.
There are well publicised stories kids having used in-app purchases on various app stores (Amazon, Apple App Store, Google Play, etc.) to purchase add-ons without parents being aware, so make sure that your devices are always required to ask for passwords when placing orders. Also make sure that you have different profiles for kids using your computers, and you enable authentication on all purchases on Amazon and other stores, to avoid your little ones ordering their favourite toys for free next-day-delivery without appreciating the costs they might be incurring.
Parental control software
Parental control software can be used to help protecting your children but should not be relied on as a replacement for good parenting. As children get older, they are quite likely to find ways around parental control software, however for your younger children this can be helpful in preventing them from accidentally stumbling across inappropriate material.
Make sure the search engine your children are using on computer and mobile devices has search filtering enabled:
Some broadband providers offer the option to run content filtering / parental control for your broadband connection and you may want to consider using a solution like this instead of software running on your computer. Mobile network operators offer similar settings to help you.
You should also always run up-to date anti-virus software in the event your child does download a infected file. As this could comprise the security of your data.
Parental controls in Windows Vista / Windows 7
If you use Windows Vista or newer, you will have access to some built in parental controls that will help you control how your children use the computer. These can allow you to set restrictions on web sites, games and other programs, as well as impose time limits.
The options for this can be found in Control Panel, then User Accounts. The settings can be applied on a per user basis so different settings can be applied for different users in the household. Click the images below for examples of the settings that can be used.
Windows 10 requires families to setup a family account which allows you to track your childrens usage, permissions, and times. More details are available from Microsoft.
Apple Mac OS X offers parental control by setting up separate account for kids to use. To find these, go to System Preferences > Parental Controls: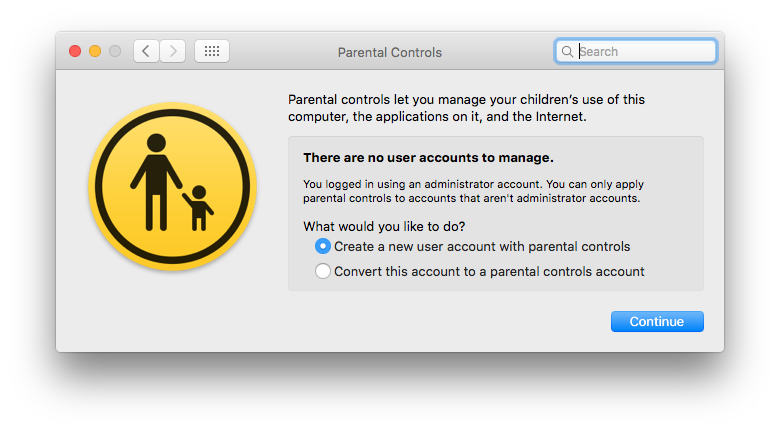 Find out more
There is a wealth of information available online to help parents ensure their kids are safe online. Try the following sites as a start.
Ofcom - Advice guides for parents
Get Safe Online