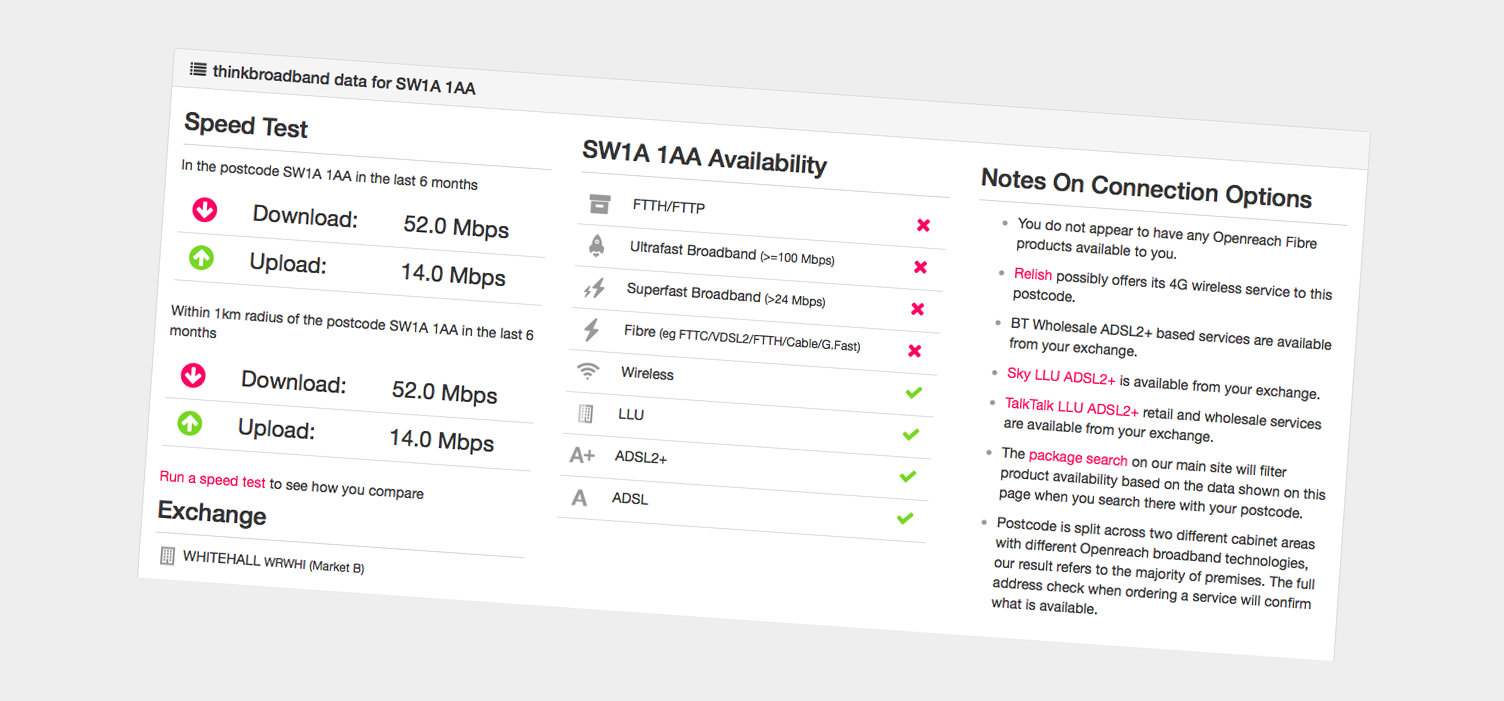 thinkbroadband has been tracking broadband coverage across the UK since 2012. We make most of our data available to consumers such as our local Broadband Coverage by postcode.
We also provide commercial broadband data services to which may be of interest to enterprises or public bodies who need to make business decisions based on broadband statistics for a particular area. We hold data on availability of various provider services and performance data. We can also support analysis of take-up.
Some examples of the use cases our data may be suitable for:
Broadband Altnets looking at where to install fibre-to-the-home (FTTH) broadband technology to get best Return on Investment based on lack of current availability but significant broadband demand
Investor / due diligence / analyst reviewing rollouts and potential value of existing fibre/LLU/other footprint
Companies wishing to target particular areas of the UK for marketing based on availability and/or take-up of superfast broadband
Website offering tools to consumers which rely on broadband availability (e.g. comparison listings) or speed to offer choices/services.
If you are a member of the press, including regional/local press, we can often provide some analytics for your coverage area free of charge.
There are three key services which we offer:
Broadband Availability API — We offer RESTful API which returns a JSON object that allows sites to look up availability-related details based on postcode (e.g. whether FTTC si available, whether some Altnet are available, etc. This API offers details on the 'wholesale services' available, not the retail packages consumers can purchase, so focussses on technologies/speeds. (e.g. which LLU services, is G.fast available? Openreach FTTP? Is the postcode split, where some addresses can and other can't receive such services). This service is designed for websites to use when a consumer is interacting and queries our live database.
ThinkPoint data sets — In conjunction with Point Topic, we have worked to produce data sets which can be ingested into GIS or your own business intelligence systems. Quarterly and annual updates are available. A sample of what can be provided is also available. Restrictions on data set usage/distribution apply.
Custom Data & Analysis Services — Our staff are leaders in analysis of the state of broadband in the UK. We'd be happy to discuss any other requirements you may have, and how we can assist. Please get in touch to discuss further.