Jump to: list of fibre broadband services
Jump to: what speed can I expect?
What is fibre broadband?
Fibre broadband is a new type of broadband that is currently being deployed in the UK by BT, Virgin Media and other operators which uses fibre optic cables to help increase the speed of your broadband connection. It is often referred to as 'super-fast broadband' or 'next-generation broadband' as it offers faster speeds than have been available to date using older generation networks. It is available to both home and business users.
There are generally two types of fibre broadband connections
Fibre to the cabinet (FTTC)
Fibre-to-the-Cabinet (FTTC) involves running fibre optic cables from the telephone exchange or distribution point to the street cabinets which then connect to a standard phone line to provide broadband.
This is combined with a copper cable from the cabinet to the home or business which uses VDSL or similar technology that can deliver much faster speeds over shorter distances.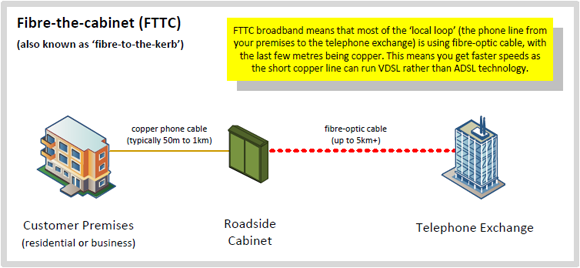 Fibre to the home / premises (FTTH or FTTP)
Fibre-to-the-Premises (FTTP), also often referred to as Fibre-to-the-Home (FTTH) provides and end-to-end fibre optic connection the full distance from the exchange to the building and can deliver faster speeds than FTTC as there is no copper leg at all.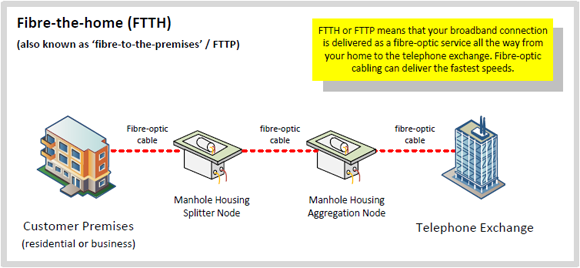 How fast is fibre broadband?
FTTC broadband comes in two varients which offer a downstream line speed of 80meg (80Mbps) or 40meg (40Mbps), but the actual maximum speed of the service will be slightly lower than this at around 78 / 39Mbps. Different upstream speeds are available at either 2Mbps or 10Mbps on the 40meg variant, and 20meg up on the 80meg. 
Not everyone will receive the maximum speed as it depends on the length of your phone line to the cabinet which is providing your broadband service, but BT Openreach will guarantee that the minimum sync speed will be 15Mbps or 30Mbps. Some retailers may offer the 20meg upload product with a 40meg downstream speed, this is achieved by capping the downstream speed in the retailers network.
If you already have fibre broadband, why not try our broadband speed test to see how fast your connection is. It is best to carry out speedtests at a variety of times, both peak and off-peak, as at peak times the congestion in the retailers network may affect your speed significantly. Our tbbMeter tool will let you keep an eye on your browsing and download speeds when using your connection, plus has a variety of testing tools built into it.
If you are lucky enough to live in an area that will receive FTTP (full fibre), download speeds of 330Mbps and upstream speeds of 30Mbps are available. The FTTP products offer the same speed options as on FTTC (at the same price) and also faster versions at 100meg down /15 meg up, 110/15meg, 100/30meg, 330/20meg, and 330/30meg. Further speed upgrades for full fibre to 1Gbps (1000Mbps) will arrive in future years.
What speed can I expect from fibre broadband? (FTTC)
The speed of your connection will vary depending on the distance to the fibre cabinet that serves your house. If you know roughly how far the cabinet is, you should be able to calculate the speed you should receive based on the figures in the table below:
| Distance to cabinet (metres) | Estimated downstream connection speed | Estimated upstream connection speed | Cumulative %'age of premises at this distance |
| --- | --- | --- | --- |
| 100m | 100 Mbps | 25 Mbps | 5% |
| 150m | 80 Mbps | 20 Mbps | 10% |
| 200m | 65 Mbps | 18 Mbps | 20% |
| 300m | 45 Mbps | 17 Mbps | 30% |
| 400m | 42 Mbps | 16 Mbps | 45% |
| 500m | 38 Mbps | 15 Mbps | 60% |
| 600m | 35 Mbps | 14 Mbps | 70% |
| 700m | 32 Mbps | 11 Mbps | 75% |
| 800m | 28 Mbps | 10 Mbps | 80% |
| 900m | 25 Mbps | 9 Mbps | 85% |
| 1000m | 24 Mbps | 8 Mbps | 90% |
| 1250m | 17 Mbps | 5 Mbps | 95% |
| 1500m | 15 Mbps | 4 Mbps | 98% |
VDSL2 Profile 17a, cabinet to premises speed estimate
Can I get fibre broadband?
Fibre broadband currently has a limited roll out. As of March 2012 around seven million homes had the option of fibre from Openreach (28% of UK households) this is expected to rise to ten million by the end of 2012. It should be remembered that while an exchange is announced for FTTC/P that not all premises served by an exchange will benefit, generally only 85% of properties see their cabinet enabled for FTTC on an exchange. BT have committed £2.5 billion to invest in the technology which will allow them to reach two thirds of the country by the end of 2014.
Current roll-out plans are predominantly FTTC and BT expect FTTH/P to make up around 17% of the completed fibre deployment. In 2013 the FTTP on Demand option should launch, which will allow small businesses and home owners to pay perhaps £500 to £1500 to get FTTP installed to their home if they live in an area with FTTC.
To check if you can get FTTC broadband, follow the below steps:
Check your postcode on the thinkbroadband availability checker which lists both FTTC, FTTH and a number of wireless options for faster broadband and the speeds recorded by our speed test in your area.
Visit the BT Openreach Superfast broadband website and enter your postcode to see if your telephone exchange and more importantly if your cabinet is enabled.
If your exchange is marked as 'Accepting Orders', enter your telephone number on the BT Wholesale broadband availability checker.
If you Cabinet is scheduled to be enabled for FTTC broadband, you should see a paragraph such as "Your cabinet is planned to have WBC FTTC by 30th June 2012." This will also provide an estimated speed that you should see.
If your area is enabled, you may not be able to get fibre broadband from your current provider. Below is a list of fibre broadband providers and some of their products.
Fibre Broadband Packages
To find Fibre based broadband packages please visit our fibre broadband package list.
Do Virgin Media offer fibre broadband?
Virgin media run a cable network which is a coax-fibre hybrid network. It works in a similar way to Fibre-to-the-Cabinet (FTTC) where fibre is run to a street-side cabinet and from here a connection is made to your house using a coaxial cable. This coaxial cable offers more resilience to interference than a standard phone line so it is possible to run faster services over this. These Virgin FTTC cable products currently offer speeds ranging from up to 50meg to up to 152meg.
The architecture of the Virgin Media network is often referred to Fibre to the Node, and is based around DOCSIS 3.0.
FTTC/FTTP routers
FTTC or FTTP is an engineer installed product and will include a VDSL2 capable router to which you can connect your own router or computer. You will need to connect a device that supports PPPoE to use it. This is usually a standard 'broadband router' or 'cable modem' router which has a WAN port. If you currently have an ADSL router with a built in ADSL modem, this will NOT work with the FTTC service and you will need to get a new router. If you are only using one computer on the connection, you should be able to connect the BT provided router directly to your computer and create a PPPoE network connection to get online.
How does FTTC broadband work?
Fibre-to-the-Cabinet broadband uses fibre optic cable from the local telephone exchange to connect to the nearest street side cabinet which serves your property. This is normally within a few hundred metres of your property. BT Openreach will usually install a new cabinet adjacent to or near the existing 'green cabinet' which serves your phone line. The new cabinet will house a VDSL2 capable DSLAM (a mini-version of what currently provides your ADSL broadband service) to which your phone line will be connected. As the cabinet is close to your property and also uses newer VDSL2 technology, the speed of your broadband is usually much higher.
The cabinets are available in a variety of sizes, and installation requires the cabinet to be supplied with mains power, as well as ducting to link it to the old cabinet and of course ducting to carry the fibre back to the telephone exchange. In some areas the fibre from a cabinet does not go back to the existing exchange, but a neighbouring exchange. This does not affect the speeds possible, since fibre can run for many kilometres without the signal being affected.
How does FTTP broadband work?
Fibre to the Premises runs over a fibre optic cable from the telephone exchange, all the way to inside your property. The fibre from the exchange is normally terminated on the outside wall of a home, and a short fibre lead run inside to the fibre modem, which then offers an Ethernet connection to a broadband router.
The fibre itself is relatively fragile, so rather than being pulled through ducts or hung directly over telegraph poles it is blown through tubes that have been installed into the ducting. The installation of this tubing is the most obvious sign of fibre to the premises being deployed.
In areas where ducting is available, the hardware for FTTP is installed in the various chambers, in areas with telegraph poles, weather proof enclosures are used to house the fibre splitters that take the fibres from the exchange and divide them out to go to individual premises.
A big advantage to FTTP is that is not subject to interference, which can affect ADSL and VDSL2, thus fibre connections are generally a lot more reliable. Alas the extra work to get each fibre to the home makes it expensive to deploy to every home.
How does Openreach FTTP and Fibre Voice Access work?
Fibre Voice Access is an Openreach product that allows your telephone service to be delivered over their FTTP product. At the start of 2013 we are only aware of BT Retail offering a BT Fibre Home Phone service. The service is optional, with the majority of providers currently opting to still use the old copper wiring for the phone service. The telephone service is presented on the Tel1 socket of the Fibre ONT that is installed by the Openreach engineer and if Fibre Voice Access has been ordered, the engineer should also install a faceplate to the Openreach master socket in the property.
The fibre service for broadband will usually go live before the fibre voice access, but once the voice has switched (indicated by the green Tel1 LED on the fibre modem) to arriving down the fibre optic cable, the customer needs to flip a switch on the new interstitial faceplate from copper to fibre. This switch isolates the external copper wiring at the property and allows you to use your existing telephone extension wiring.
Fibre Voice Access (FVA) can support two distinct telephone numbers, by switching on the second Tel2 socket on the fibre modem.
If there are problems connect a telephone directly to the Tel1 socket on the fibre modem to check that the issue is not something to do with the telephone wiring in the property.
What is Fibre on Demand, is it different to FTTP?
Around Spring 2013 Openreach will make available a new option for people wanting to improve their broadband speeds. Fibre on Demand will only be available to those parts of the UK where Openreach has its Fibre to the Cabinet (FTTC) network, the on demand product means that when you order the service Openreach will plan and provide details of the cost to install a Fibre to the Premises (Home) product to that property. Once installed the service behaves identically to the FTTP product that is available to some properties in the UK.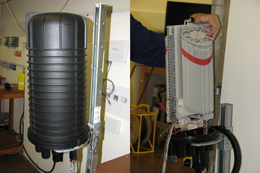 The cost to install will vary according to how much work is needed, but current estimates suggest that on top of a fixed £500 installation fee, a property that needs around 500 metres of fibre deployed will see an extra charge of £1000. Those closer to the fibre aggregation point will pay less and those further away will pay more. As of January 2013, there is no detail on what difference in price an overhead or underground deployment will make.
The Fibre on Demand product does not use any hardware in the existing fibre cabinet, but is limited to FTTC areas as it relies on there being the fibre links back to an exchange and a fibre aggregation node which is located close to each FTTC cabinet. This means if you are estimating the potential cost the distance to your street cabinet is reasonable approximation.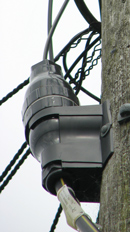 The costs of FTTP on Demand are high for installation, but in theory the full range of GEA-FTTP product speeds will be available, which start with 40 Mbps downloads, rising to 330 Mbps down and 30 Mbps up and the monthly costs should be the same. A a retail provider should be able to offer a 40/10 FTTP product for the same monthly fee as the equivalent FTTC product.
The first person to order fibre on demand product for a cluster of properties will pay a proportion of the costs of installing the extra fibre run, fibre splitter and manifold. Subsequent orders on the same manifold will pay the same proportion, so being first to order should not unduly affect the cost, the difference is that subsequent people ordering will have a shorter lead time for the installation.