G.fast broadband spotted in Huntingdon
Friday, September 4, 2015 1:19 PM
The G.fast trials that Openreach is running were announced as having connected the first customers recently and now we can reveal the first speed test that we have seen across a G.fast connection.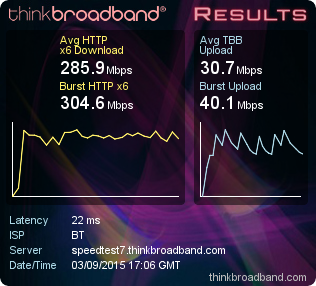 G.fast ultrafast broadband from Huntingdon trial
We have seen speeds like this before from areas where native FTTP from Openreach is available and people have opted for the fastest service or in some cases people who got a Fibre on Demand order in before the order book closed, and as the G.fast product is modelled to match the fastest current Openreach FTTP product it is no surprise we see similar speeds. The test was tracked back to a street where Openreach is running its G.fast trials, and in time we might even see the Gigabit FTTP product appearing in our speed test data too.
It should be noted that we are not expecting every G.fast connection to hit these sort of speeds if and when it is launched as a product, part of the trials process will be seeing how the new technology performs over distances in the real world and also how long it takes engineers to install the G.fast nodes, its fibre backhaul, power and small copper interconnects and then feed this into the models to determine which will be the most cost effective to roll-out.
What is interesting is that the best Wi-Fi routers on the market currently max out at around 266 Mbps download speeds in the real world (as opposed to marketing claims on packaging), so with the new wave of ultrafast products speed demons will need to remember to avoid wireless if the ultimate speed thrill is their goal.
In the speed battle for advertising Virgin Media will hit the market running before G.fast hits any volume, but unless Virgin Media boosts its upload speeds G.fast looks set to be the preferred choice for those wanting more upload speed, before the ultimate step of symmetric FTTH.
Comments
Post a comment
Login
Register