The importance of full fibre broadband
Saturday, February 23, 2013 12:55 PM
Over the past few days, thousands of delegates have gathered in London for the FTTH Councils' Fibre-to-the-Home Conference at Excel in London. This event has been designed to bring together network operators, equipment suppliers, contractors, policy-makers and investors to help promote FTTH adoption across the EU.
When we talk about fibre-optic broadband in the UK, we usually mean fibre-to-the-cabinet (FTTC) 'hybrid' solutions rather than fibre-to-the-home/building/premises (FTTH/FTTB/FTTP), the so called 'full fibre' solution. Most of the rollout by BT, and all the Virgin Media fibre services are at present based on FTTC, using a copper cable (telephone twisted pair in the case of BT or coax in the case of Virgin) to connect the home to the nearest fibre distribution point, a street cabinet within a few hundred metres of the premises usually. Alongside some limited rollout by BT, a number of niche operators in the UK are rolling out FTTH and FTTB focussing on new-build properties in cities as well as some rural projects.
The FTTH Council released its bi-annual market report which revealed the state of fibre adoption across Europe, and confirming that an increasing gap was developing between countries pushing ahead with fibre and those lagging behind. This should be of concern to government (who were absent) as there is some evidence that ultra-fast broadband connectivity is a key driver of economic development by promoting a start-up culture according to keynote speaker Alexander Bard.
The demand for full-fibre
One of the most common criticisms of full-fibre advocacy is the suggestion that consumers simply don't need the sorts of speeds delivered by this type of solution, and investment is better targeted at hybrid FTTC technology. One of our Twitter followers yesterday asked:
"What you can do with gigabit that you can't do with 60Mb?"
@nickg_uk
A fair question we would argue; so we visited the 'application dome' at the FTTH conference showcasing new technology which is expected to be adopted in the next few years, to find out what the speed requirements for all the technology in the dome required? Included in the dome were a Microsoft Surface table letting you explore a real-time map of the world, telemedicine robots which allowed patients to consult with doctors over video conferencing, a 3D printer, a 4K super-high definition television amongst other interesting toys. Most of these applications didn't actually require fast speeds, although telemedicine and the general requirement for interconnectivity does mean reliable Internet connectivity is a common requirement. Perhaps the best example of a high bandwidth application was the 4K TV, a super-high definition (about four times the number of pixels as standard 'HD' we use today) which would struggle on a 60Mbps connection today, but as with existing HD transmissions, the codecs use will improve and we will see the use of compression techniques that remove detail (something you may notice if you watch a very fast moving event such as an explosion on Sky HD) to bring this down further.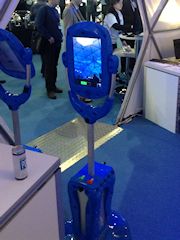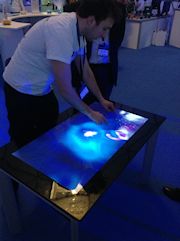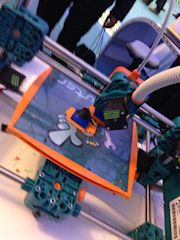 Selection of applications which broadband is expected to support in future
When Virgin launched its 50 and 100Mbps services, these were exactly the questions the press were asking–yet we have accepted the benefits of superfast broadband services for some time, and uptake is improving. The answer back then was of course the 'family'; whilst parents are watching Netflix in the living room, the kids may be playing World of Warcraft upstairs, each needing a high quality connection, be it in terms of bandwidth or low latency. There is however now evidence that faster broadband services can be a significant influence in creating a community of startups, with a typical delay of five years. Keynote speaker Alexander Bard cited Nordic capital cities including Helsinki, Stockholm and Copenhagen as key locations where startup communities are going to be growing substantially in the future, and technological innovation brings a multitude of long term benefits.
"You are higher up the value chain the earlier you adopt technology such as FTTH. In Nairobi you can pay for a taxi with a mobile; in Stockholm you pay by credit card. When Scandinavian countries implement mobile payment systems, they will pay Kenyan companies substantial amounts in patent fees"

Alexander Bard, philosopher & keynote speaker
Mr Bard also challenged the concept of the 'home', explaining that Internet use was now much wider than just the home. Fibre was needed to 'everywhere' users would be. In mature economies such as Japan, the average worker no longer spends five days a week at work, but 3.8 days; 1.2 working days are spent working from home or elsewhere. This is also particularly visible for young entrepreneurs. Over the next 20-30 years, people will find new ways of living, and this is likely to increase the need for ubiquitous faster broadband services. He also suggested that we are likely to see people living in other parts of the world and teleworking using fast connectivity.
An investment in all-fibre networks is about providing future-proof infrastructure which encourages new applications to be developed. Fibre optic connections have always lead over copper in terms of speed on short distances, but on long distances, the gap is even larger. Copper can today deliver 10Gbps connections over relatively short distances (measured in metres) whilst fibre can do so several times this, across kilometres and beyond.
Commitment to the future of fibre
The UK government has invested in a mix of technlogies to try and narrow the gap between those on superfast connections and those in the slow lane. Notable by their absense at the conference, it was left to Chi Onwurah MP and member of the shadow cabinet to provide a parliamentarian's perspective on investment in next-generation infrastructure. She explained that digital infrastructure was key as a platform for innovation and criticised the recent cut in EU broadband budgets:
"A cut of 85% of the broadband budget is not a positive signal for the investment priorities for Europe" she explained, comparing it to a mere 1-2% cut in Common Agricultural Policy budget. "Why is it that we do not reward long term investment? Companies that invest in long term FTTH see their share price suffer [in the short term]" she adds.

"My constituents in Newcastle aren't demanding fibre-to-the-home now. They are demanding decent broadband, something they weren't asking for three years ago. When the demand pull comes, these networks take years to roll out, and government needs time to establish a regulatory vision. I'm very concerned that we don't have a plan, a future, from government, or from our major providers that includes FTTH in significant numbers."

Chi Onwurah, MP and member of the shadow cabinet
Ms Onwurah acknowledges the UK's high take-up of broadband with the highest proportion of the economy online as well as burgeoning creative industries, however two major problems also exist. Firstly, the growing digital divide between cities and rural areas when it comes to super-fast broadband, and secondly the lack of a long term vision–something her party is looking to address. She explained that the current government has no plans beyond 2015 and that a ten-year vision was needed. She believes that BT comes under a lot of criticism on its FTTH investment, but suggests most of this is unjustified as the incentive for a public company to invest in long term solutions is currently not present. By getting everyone connected to universal basic broadband, it becomes possible to bring all of government services online too, and reduce associated costs.
Comments
Post a comment
Login
Register