Ainderby Steeple has honour of hosting first BDUK funded fibre cabinet
Thursday, December 13, 2012 2:16 PM
All projects have their key milestones, and the £530m of BDUK funding has passed a significant one today as the first area to benefit from BDUK funding has its cabinet unveiled. The village of Ainderby Steeple is the lucky place, and people should be able to order a service before Christmas, though whether it will be installed before is another matter. The cabinet is live three months ahead of schedule, and work is underway across North Yorkshire to get more of the non-commercial cabinets live.
"This is a significant step for Ainderby Steeple. High-speed digital connectivity is an essential requirement for our long-term success. At a time when our local economy needs every possible boost, important developments such as the Superfast North Yorkshire programme's investment in super-fast broadband offers the potential to create new opportunities, services and growth."

Local MP, the Rt Hon William Hague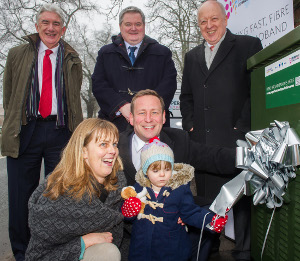 The Superfast North Yorkshire website allows people to check by postcode what is happening, and while at the wholesale level Openreach has delivered the service, the site links off to the multitude of retail providers so that people can check whether it is available from their chosen provider or not. People should be aware that sometimes a retail provider may take longer to update its own systems, so conflicting information on whether a service is or is not available is fairly common in areas where an FTTC service has just gone live.
Further to the south in Yorkshire, another 250 properties in Selby are which already offers FTTC services are shortly to get access to the superfast service. These properties were originally not in the commercial roll-out.
We are waiting on pictures of the unwrapping of the cabinet and will publish once they arrive, so people can see the cabinet really does exist.
Comments
Post a comment
Login
Register