First homes connected to JT Group (Jersey) fibre trial
Monday, February 13, 2012 1:06 PM
Installations of fibre to the premises has started in Jersey, with the first 24 homes connected and more being added daily now. The trial is running in the La Rocque, Fauvic and La Moye areas of the island, and will once launched as a full service serve some 42,000 homes and businesses connected to a full fibre network.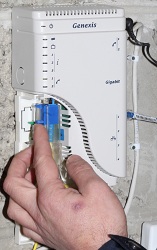 Click image for larger version
The level of demand for the service can be judged by the fact that some 350 applications had been received for the three month trial within the first 48 hours. Over the next few weeks another 500 households should get connected to the service.
"It makes a considerable difference when streaming TV programs over the internet, as the pictures come up immediately, there is no need to wait while the 'buffering' takes place. I am currently getting a download speed of '50Mb' and an upload speed of '40Mb', which makes it so much easier to work with pictures, or to use more complex websites."

Adrian Renouf, freelance IT professional living in St Brelade
The trial will give customers at least a doubling of their speed, with some homes being provisioned with a full Gigabit service. The roll-out in Jersey is unusual in that the copper local loop is being removed as they pass properties, with telephone and broadband delivered solely via fibre.
Comments
Post a comment
Login
Register