Haydon Wick starts to see FTTP roll-out from Openreach
Friday, April 1, 2016 11:06 AM
The FTTH picture in the UK is looking rosier every week and FTTH from the incumbents (KC/Openreach) has just past the 1% availability barrier (1.009% as of 31st March 2016) and the news from Openreach of progress in its 'plug and play' FTTH trials will further boost this.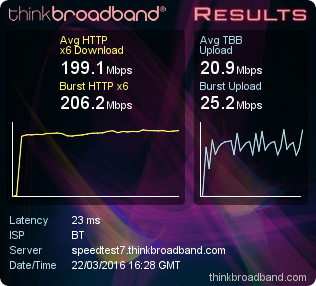 The speed test result shown is from a user in the Haydon Wick Openreach trial area and prior to this they seem to have been enjoying speeds of 2 to 10 Mbps depending on time of day/provider. So far the trial seems to comprise of four live postcodes, but is set to expand to include premises in Ariadne Road, Boatman Close, Clementine Road, Mayfly Road, Metis Road, Minnow Close, Ulysses Road and Voyager Drive. As streets go live we will be adding them to our own availability checker but in the mean time the Openreach Ultrafast fibre website gives details for the Swindon trial and other trials they are carrying out.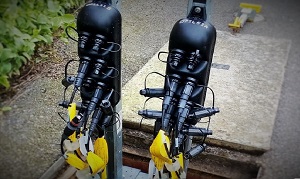 FTTH from Openreach is nothing new, but the original roll-out method was time consuming with figures of 7 hours to connect each premise even after the work to roll-out the infrastructure up and down the street was already done. The new plug and play aspect is around using connectorised kit thus reducing the amount of splicing and fibre blowing needed. The G.fast trials can use similar techniques and trials like this are needed to help inform the cost model that will decide which streets get G.fast and which get native FTTH as Openreach pushes the fibre deeper into the local loop.
KCOM in Hull has announced a faster roll-out of its FTTH Lightstream service in the Hull area, so its clear that the incumbents are ramping up their act and it will be interesting to watch the picture change in the next few years. Firms like Hyperoptic and Gigaclear also have big expansion plans, and if the CityFibre joint venture with Sky and TalkTalk starts to deliver in volume we might see the current 1.55% FTTH availability figures vanish into the distance and be talking of 3 to 5% within 18 months.
Comments
Post a comment
Login
Register