Long Reach VDSL2 what effect would it have?
Friday, September 25, 2015 12:57 PM
The big BT Group presentation this week covered a lot of ground in a very short space of time and while we talked a little about the potential of a new VDSL2 variant information was thin on the ground. Now we can share the graph showing the expected performance over a range of distances.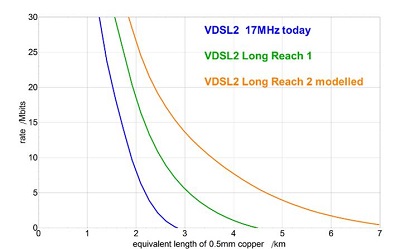 We should point out before people get too excited and ask to join trials etc, this is not a product or trial that is available to join yet, but represents one of the potential options that Openreach could use to improve coverage. This is similar to the commitment to the Universal Service Obligation made on Tuesday 22nd, where Openreach and BT were saying that they are ready to do their part if the USO is defined in the 5 to 10 Mbps region, but until Government and Ofcom actually put into place a new Obligation for broadband coverage the work on existing commitments will continue.
We did some very quick estimates of what the LR VDSL2 model would offer earlier in the week, but now we can share what would happen if Openreach was to make Long Reach VDSL2 available from every live FTTC location that we already know about. The headline being that the UK would jump from 86.6% coverage at speeds of 24 Mbps or faster to 89.3%. The effect across the 12 regions of the UK is below:
thinkbroadband calculation of the effect a Long Reach 2 VDSL2 deployment would have on UK existing regional superfast and broadband coverage
Existing coverage data taken from 21st September 2015
Area
% superfast
24 Mbps or faster
Profile 17a VDSL2
% superfast
Long Reach 2 VDSL2
24 Mbps or faster
% Under 2 Mbps USC
Profile 17a VDSL2
% Under 2 Mbps USC
Long Reach 2 VDSL2
% Under 5 Mbps USO
Long Reach 2 VDSL2
% Under 15 Mbps
Long Reach 2 VDSL2
London
92.9%
94.5%
0.3%
0.0%
0.9%
2.6%
South East
91.3%
94.2%
0.4%
0.1%
1.7%
3.8%
East Midlands
90.9%
93%
0.6%
0.1%
2.0%
3.8%
North East
90.3%
92.5%
0.4%
0.1%
1.9%
4%
North West
90.0%
92.2%
0.7%
0.2%
2.8%
5.4%
West Midlands
89.4%
91.7%
0.5%
0.1%
2.4%
5.0%
East of England
84.9%
88.1%
0.8%
0.1%
1.4%
7.4%
Yorkshire and Humber
82.4%
85.3%
0.7%
0.2%
5.1%
9.7%
Wales
81.6%
85.5%
0.8%
0.2%
6.7%
10.9%
South West
80.8%
84.9%
1.0%
0.2%
5.1%
9.9%
Scotland
78.7%
80.7%
1.1%
0.4%
5.7%
12.3%
Northern Ireland
76.3%
83.9%
8.6%
3.2%
6.8%
13.5%
NOTE: The percentages for those under 2 Mbps, 5 Mbps and 15 Mbps include those where only ADSL or ADSL2+ based systems are available. The superfast figures include Virgin Media and KC as per our standard statistics we publish, this was done to make comparisons with our existing data easier.
The VDSL2 17 MHz line in the model is more optimistic than the model we use which takes into account very pessimistic levels of cross-talk, and until Long Reach 2 VDSL2 makes it into the wild we cannot get any data to see how much to adjust the model down, but the table above shows the potential that could be delivered. The scale of the improvement nationally is that even if Openreach deployed no more FTTC, adding Long Reach 2 VDSL2 would allow another 742,000 premises to go from being under the USC to being above it.
The real questions now are, how soon can this VDSL variant be ready for market and what are its associated costs? There are other options to extending reach such as the GEA-ASDL2+ mentioned previously, then ADSL2+ or VDSL2 regenerators or as is happening in places like Northern Ireland, network rearrangement to create new cabinets for outlying clusters of premises. There are also the pilots from the final 5% projects that do not involve BT which are starting to deliver live customers and while the tech world knows how the different systems behave, the projects will deliver reports to the politicians and economists so they can decide whether to go gold plated, or enough to meet needs for the next two or three years.
Comments
Post a comment
Login
Register