Is BT Wholesale putting new connections on hold?
Thursday, March 20, 2014 10:37 AM
The issues with capacity on the BT Wholesale network are continuing, but if the indications from our user forums are correct it looks like an end may be in sight. The BT Wholesale availability checker is indicating for some people in congested areas that there is no capacity on the WBC network (i.e. both ADSL2+ and FTTC over the BT Wholesale platform) and that orders are delayed until 7th April when more capacity will be expected.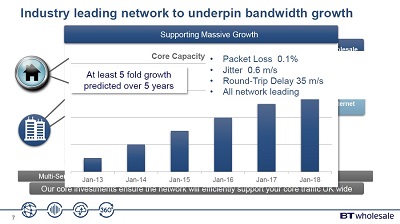 BT Wholesale expected bandwidth growth and network performance targets
Click image for larger version
The rise in demand both in terms of raw numbers of users and increasing bandwidth usage is no surprise to BT Wholesale, the above graphic from a presentation suggests they are expecting a five fold increase in traffic between 2013 and 2018.
Updated 6pm: BT Wholesale have confirmed that if you use the BT Wholesale availability checker and get a capacity warning as per the below graphic this is referring to port capacity.
Click image for larger version
Merula is one of several providers that publish the notices that BT Wholesale sends out to its ISP customers and these reveal that it does not appear to be one massive upgrade but rather upgrades at multiple locations across the UK.
It needs to be pointed out that FTTC services via LLU providers such as Sky and TalkTalk are not affected by these capacity issues, since these providers utilise their own backhaul networks from the telephone exchanges. Zen Internet who have a network of some 200 locations with their own backhaul network (and LLU ADSL2+ service) will not see the problem for connections on those exchanges. AAISP has also offered to move customers to the TalkTalk Wholesale network if they wish.
At this time it is unclear if someone at BT Wholesale took their eye off the ball with regards to upgrades to capacity, or whether there has been a big burst in bandwidth consumption brought on by more people shifting to OTT TV platforms for peak time TV viewing or some other use.
Update 6pm 20th March It seems there are two issues, both backhaul capacity, and port capacity. Where the BT Wholesale checker is talking about capacity this is referring to port capacity.
"We currently have issues with port capacity across a small proportion of our WBC enabled exchanges.

This means a small amount of new customers are being supported by our legacy broadband network as a temporary measure before being moved onto our next generation network once new ports become available.

We have recovery plans in place for each affected site with the majority being upgraded over the next few weeks.

BT Wholesale statement on Port Capacity Issues
We have added a new BT statement on the backhaul capacity issues to our other news item.
Comments
Post a comment
Login
Register