No sign yet of BT Wholesale congestion improving
Tuesday, March 18, 2014 11:38 AM
Generally the 21CN WBC platform operated by BT Wholesale that has been rolled out over a number of years has been vastly superior to the old ATM based network, but for some weeks now there has been a growing number of people complaining of peak time congestion issues.
One of the most worrying comments to come out of BT Wholesale has been the level of packet loss that is considered acceptable within BT Wholesale, which is a massive 3% and this is actual packet loss apparently not just packets delayed for 500ms.
The problem appears to be affecting multiple broadband providers, and is not consistent across the United Kingdom. We all know that broadband usage is climbing rapidly as more people switch to OTT TV platforms for their viewing, but as the billing on the WBC network is based around the peak utilisation it is in the interest of BT Wholesale to carry as much traffic as possible, rather than allow congestion.
Spotting congestion is fairly easy using our speed test, which carries out a single thread test that can reveal widely varying speeds when a line is affected by congestion or if your TCP RWIN value is holding back your connection (seen as a slow ramp to a maximum speed). Low levels of congestion should not affect the HTTPx6 test, which uses six threads to try and overcome any congestion, but when congestion is bad this may start to vary in speed over time too.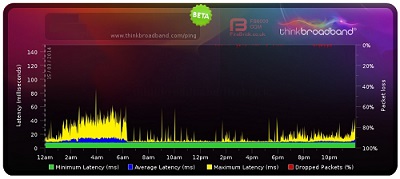 BQM graph from an otherwise idle FTTC connection on a BT Wholesale based service
Click image for larger version
Another tool is our broadband quality monitor tool, and the above graph is from Saturday 15th and the connection was actually idle for the whole day (just 0.2GB of data usage recorded). This shows packet loss creeping in at peak times (red lines at top of graph) and an unusual pattern for maximum latency that seems to suddenly correct itself (yellow spikes).
Update Thursday 20th March 2014 BT Wholesale has supplied a statement regarding the backhaul capacity issues
BT Wholesale continues to invest in adding new capacity to its next generation broadband network to meet the growing bandwidth requirements of its communications provider customers and their broadband users. According to Ofcom's measures, our network performs strongly in terms of throughput and minimising packet loss, jitter and delay.

However, we recently encountered some technical issues along the way when rolling out extra capacity. This may be affecting network performance for some ISPs across a small number of exchanges.

We have planned fixes in place for these issues and whilst some will be resolved very rapidly, others are more complex and may take longer to fix.

We continue to work hard to fully resolve these problems. In the meantime, we would urge communications providers to contact us should they have any concerns around bandwidth and network performance."

BT Wholesale statement on capacity issues
Comments
Post a comment
Login
Register