Sky unbundles its 2000th exchange
Tuesday, August 28, 2012 12:15 PM
Sky have unbundled their 2,000 exchange they have announced today, bringing their Sky Broadband Network to around 82% of homes across the UK. The 2,000th exchange was Wraysbury in Berkshire and will mean that users in this area will gain cheaper Internet access through Sky's unlimited broadband - available at a significant discount over the 'Sky Broadband Connect' product which uses the BT Wholesale network. The area has also seen benefits from Sky with recent additions of WiFi from The Cloud at eight places in Wraysbury village.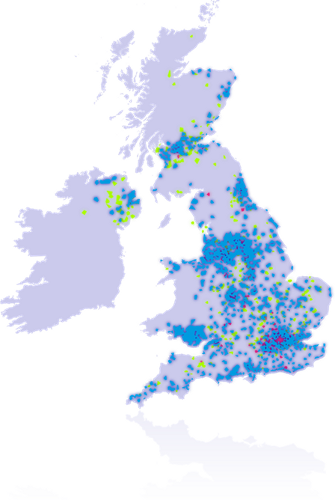 Sky LLU coverage map. Click image for larger version.
"We've invested more than £1 billion in our network over the past six years to enable us to provide our customers with the best possible broadband service and offer value that's second to none. Since launching broadband in 2006, we've grown significantly around the UK with a view to reaching coverage of 90% of the country by 2015. Unbundling our 2,000th exchange takes us one step nearer to achieving that and we're delighted to bring our totally unlimited broadband to the people of Wraysbury."

Lyssa McGowan, Sky Broadband
Sky are second in the number of exchanges that have been unbundled, following behind TalkTalk who have around 30% more - 2,591 at the last count in July.
Comments
Post a comment
Login
Register