New tool on its way to BT Wholesale armoury
Thursday, April 10, 2008 12:58 PM
We have mentioned a little about the new Interstitial Plate from BT Wholesale already, but the difference it can have for some people means it deserves another mention.
The imbalance and noise pick-up due to the ring wire used in phone wiring in the home in the UK has been known about for some time. In the past the solutions have been to fit an ADSL faceplate to the master socket, or manually remove the ring wire. BT Wholesale has produced a device dubbed the iPlate that sits between the customer removable part of a BT master socket and the BT maintained part.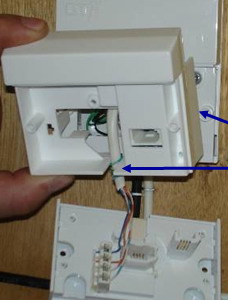 The demonstration of the device and its effectiveness was based around a fluorescent light stripe that visually functioned perfectly, but had a power supply that generated a lot of noise in the frequency ranges that affect ADSL and/or ADSL2+ signals. The demo saw the interference drop a line connecting at 3.8Mbps down to 0.7Mbps and the new faceplate bringing the line back around 2.5Mbps. The demo was a reproduction of a problem unit seen in a customers premises, and for the ease of reproduction the noise was reproduced using electronics.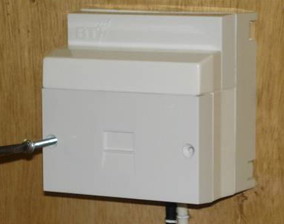 Some people may see no speed increase using this device so it is not a fix for every broadband problem that exists, but can improve connection speeds or reduce the number of random reconnections for enough people that BT Wholesale has bothered to get to the point where it is tooling up to make the iPlate available in quantities. For some people on long lines who just tried ADSL micro-filters and got no workable signal and never had a BT engineer visit the iPlate may mean they can sustain a workable connection.
It must be pointed out that the iPlate does not remove the need for ADSL micro-filters, so those happy to wire in a full ADSL faceplate may prefer to do so. The advantage is that the new iPlate is easier to fit and does not require people to punch down wires into connectors at all.
Cost wise BT Wholesale is suggesting a wholesale cost under £5, so what the retail price will be depends on the broadband providers. Some may decide to simply ship the iPlate for free with connection kits, others may well add handling fees and postage, which could easily see it rising to the £10 mark to buy.
It is expected that once the new ADSL2+ products from BT Wholesale appear that the iPlate will follow, so given the current timetable this will be around April/May 2008.
Comments
Post a comment
Login
Register