Which? survey puts broadband alongside food and water for importance
Thursday, December 8, 2016 12:15 AM
Which? has been lobbying over a number of broadband issues for sometime and as part of this it commissioned a survey of 2,000 people around broadband, and while we don't know the location of the people the sample is described as nationally representative.
The headline from the survey is that 90% described broadband as essential, and this was higher than running a car (68%) or even a TV (73%). Interestingly running water scored 97%, food 97%, energy supply 95% and adequate housing 95% are the only items to score higher than broadband, takeaway food was at the bottom with 13% saying it was an essential
"This research underlines again just how important broadband is to our everyday lives. Yet many of us are still experiencing persistent service interruptions and a large proportion of the population can't access usable speeds to carry out the most basic tasks.

The government must urgently press ahead with its reforms to give us the faster and more reliable broadband connections we all need.

Alex Neill, Which? Director of Home and Legal
What is likely to get a great deal of coverage is the poll also found that 3 in 10 were getting speeds below 10 Mbps (Mega bits per second), and actually that is no surprise since our monthly speed test results show that if we eliminate obviously Wi-Fi devices such as tablets and mobiles, 39% have a speed of 10 Mbps or slower. Including mobiles and tablets only adds an extra 1%, but drops the mean speed from 26.7 Mbps to 24.3 Mbps.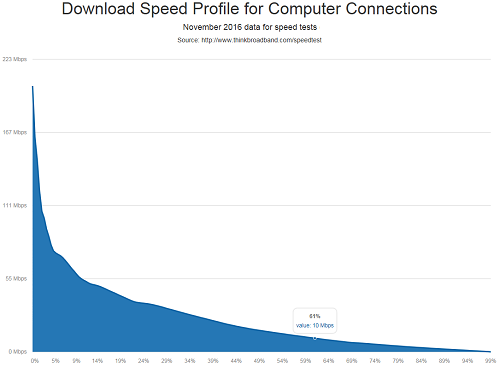 Click image to zoom in
Profile of upload speeds in November 2016
It is pretty simple as to why so many people are reporting speeds under 10 Mbps and it is not because of a massive failure in the coverage statistics, but simply that millions are yet to upgrade to the faster services, the reasons for this slow upgrade rate will be varied, but the extra cost of the faster services has to be a significant one. Also it is possible that for people where broadband is just another monthly bill rather than an obsession they may not even know that a faster product is available, and the constant drip feed of bad broadband stories may convince some that the new faster services are just a waste of money.
The survey also looked at other issues and with 68% reporting a problem with their broadband in the last 12 months the knee jerk reaction is to say UK broadband is incredibly broken, but think about it for a moment, we know that many people equate problems with their Wi-Fi to also be a broadband problem and identifying whether a video is buffering due to a problem with your broadband or provider rather than the service itself is much harder.
Automatic compensation for broadband faults is something that is overdue, but this is as much a retail problem as it is a wholesale one, though for people with vertically integrated providers this might be simpler. Where compensation will become much more complex is compensating for slow speeds that dip below sales estimates, the danger being that providers will simply spread the cost of compensation across the customer base and providers may simply switch to giving lower speed estimates to ensure minimal compensation is needed, or refusing to take on customers which may mean some people are stuck on years old services.
Of course it could be said that a pure fibre future would solve all this, but speed slow downs are possible with FTTH/FTTP since it is still a contended service and not immune to fibre breakages. The challenge is getting everyone to upgrade to the new services, if something like 80-90% take-up was a foregone conclusion then there would be no need for the BDUK roll-outs as commercial operators would be chasing the revenue. B4RN with its high levels of community engagement and rolling out in areas where people may be using dial-up or satellite connections is reported to have a 60% take-up, thus highlighting the scale of the task faced even when pure fibre is deployed.
"It's no surprise that broadband is viewed as essential: the UK has a strong and leading digital economy and our members are continually innovating and investing in their networks. The UK broadband market is very competitive and Ofcom statistics show speeds and quality are improving year-on-year. However, we recognise that more can always be done to improve services, which is why billions are being invested in our broadband infrastructure from a wide and growing range of providers across the UK."

James Blessing, Chair of the Internet Services Providers' Association
Comments
Post a comment
Login
Register