186k users cut off in commercial dispute
Thursday, January 15, 2009 2:37 PM
Some users of the wholesale broadband service provider 186k who operate brands such as EzeeDSL and EFH Broadband have been cut off today following a dispute between network operator Tiscali and 186k. We have been contacted by users who were seeing messages asking them to contact Tiscali, so rumours about 186k having ceased trading started to flow. The company has assured us that this is not the case and that this is nothing more than a commercial dispute between the two parties.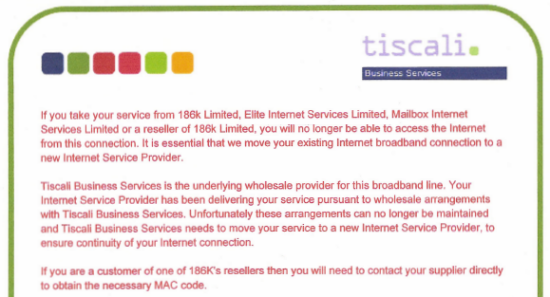 Message being shown to 186k Users by Tiscali
"This morning a small number of our users had their internet access interrupted by Tiscali UK Limited. This action was taken in response to an ongoing dispute between 186k and Tiscali, which is currently at the stage of litigation.

Last year Tiscali acquired several thousand users from 186k that resided on Tiscali and are in the process of purging those users who have not migrated fully over to them, in a statement from Tiscali to 186k they claim to be unable to separate those users that were acquired from the other small amount of users that 186k still had placed on legacy contracts with Tiscali.

We are sorry for the inconvenience this has caused our customers and believe that Tiscali have not acted in the best interests of end users. 186k are in the process of migrating users to BT Wholesale's network where the bulk of its users are serviced and are providing MAC codes for those who request them. Users are able to access the internet prior to migration by entering a temporary username and password available from their reseller.

The majority of our customers are already on our network via BT Wholesale and therefore this action has affected a small percentage of our user base. We are extremely disappointed however that Tiscali UK have chosen to interrupt access for individuals. Our team are committed to minimising any impact and restoring access as smoothly as possible and are working to do so with our valued customers."

Statement from 186k
"The Wholesale Broadband Agreement with 186k has terminated. In order to provide users with continuity of service and following full consultation with Ofcom, we are implementing this process which is in line with other wholesale providers within our industry."

Tiscali Statement
We recommend any users who are having problems and see the message from Tiscali to contact 186k on 0870 1222 186 who should be able to aid in getting users back online.
Comments
Post a comment
Login
Register