Microwave link helps Northlew in Devon go superfast
Tuesday, October 14, 2014 2:06 PM
The roll-out announcements from the various BDUK projects and BT have recently featured a few cabinets which needed fibre runs of 11 to 17km due to the distance of a village and its cabinet from the central exchange, and it appears a mixture of distance and topography has seen BT deploy another option as part of its Connecting Devon and Somerset project.
A microwave link has been installed to provide backhaul for a VDSL2 cabinet in the village of Northlew, with the radio link covering 4km on the edge of Dartmoor. We believe the cabinet went live at the end of July 2014 and have already seen the first FTTC speed tests in the village backing up the BT press release which indicates around half the households have already upgraded to the faster service.
"Getting superfast broadband to Northlew has been an immensely challenging and satisfying project. We knew that it would not be viable to lay a fibre optic cable to such a small remote community, but we were able to make the village one of the first places in the UK to try out this new microwave radio solution.

I'd particularly like to thank the people of Northlew for their invaluable support. When it comes to being connected they have shown amazing community spirit and determination. BT and the Connecting Devon and Somerset team have worked with them closely to make this project a reality.

The radio link connects to a new broadband cabinet near the centre of the village, which offers all the usual fibre broadband speeds and benefits. This is just one example of many of an innovative approach to bringing fibre based broadband to remote communities - and that innovation will continue.

We're more than four years into rolling out fibre broadband across the South West, whether through our commercial programme or with our public sector partners, so the production line is well and truly established and primed to deliver even more over the coming years.

Paul Coles, BT South West regional manager
This is just one more cabinet to add to the number already enabled via the Devon and Somerset project as it progresses to its goal of 90% availability of superfast broadband by the end of 2016 and then a further expansion to 95% by the end of 2017.
Our speed test gives us a wealth of information and while a county wide figure will always mask what is or is not available to individuals when you look at the trends over time you can start to see the effect that the improvement programmes are having.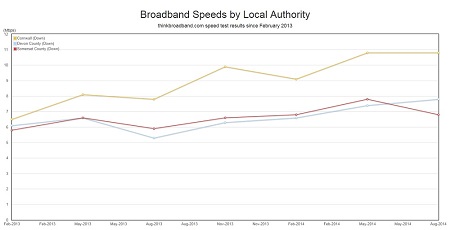 click image for higher resolution version
Speed Test comparison for Q3 2014
Local Authority
Bottom 25th Percentile
Median Download
Top 25th Percentile
Cornwall
4 Mbps
10.8 Mbps
26 Mbps
Devon (excludes Plymouth)
3 Mbps
7.8 Mbps
21 Mbps
Somerset
3 Mbps
6.8 Mbps
17 Mbps
If you look at just the median speeds for Devon and Somerset there are indications that there are improvements, and it looks likely that as the availability of fibre based services increases we will see the median speeds start to approach the figures some 25% in each county are currently seeing. Cornwall leads the other two counties simply because the Superfast Cornwall project started delivering a long way ahead of the BDUK programme. The recent surge in special offers on fibre based services will also go a long way to persuade those suffering slow speeds but putting up with it due to other pressures on their wallet may also help.
Comments
Post a comment
Login
Register