BT Retail launches its network level parental controls
Friday, December 13, 2013 2:21 PM
The pressure for broadband providers to implement network level parental controls has been a constant drip feed in the last couple of years and today has BT Retail launching their network level controls for their over six million broadband customers. These new network controls are in addition to the parental control software that has been available to BT users for some years.
The controls are managed via the bt.com website and over the course of 2014 existing customers will be prompted to make their choice as to whether leave the controls totally off, or enable one of three options, light, moderate or strict filters. For those that want more control a fourth custom option is available and how to set this up is covered by a BT FAQ entry.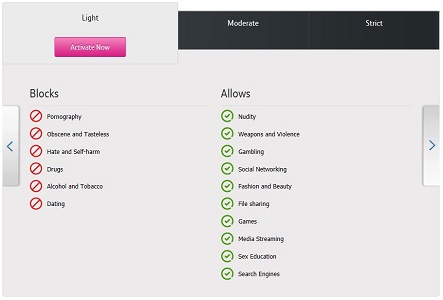 Click for larger image
Screenshot of moderate parental control settings
Screenshot of strict parental control settings
As with the recent Sky network level filtering system you can whitelist (allow) or blacklist (deny) access to specific websites and adding a website to the whitelist if it is inadvertently blocked is the default advice on the BT website. Worryingly the FAQ section does not appear to offer a path so that people can easily report incorrectly blocked websites.
A nice feature is that parents will be able to configure regular times when the filters will can be turned off, e.g. implement a 9pm curfew so that teenagers can have less restricted access once younger siblings have gone to bed. Another option is the ability to set a homework period, when many parents may want to enforce gaming blocks.
We should remind you that while blocking can be an adequate solution for younger children, parental controls will often be seen as a challenge by teenagers and therefore parental controls do not remove the need to discuss topics that parents all too often want to avoid.
Comments
Post a comment
Login
Register