Latest Ofcom telecoms complaint data published
Wednesday, September 26, 2012 12:19 PM
Another six months have passed and the complaints about broadband are still arriving at Ofcom who dutifully record the information and publish it. O2 still does not figure, we presume because they have the smallest market share of the major providers, Orange was only added to the tracking in April 2011.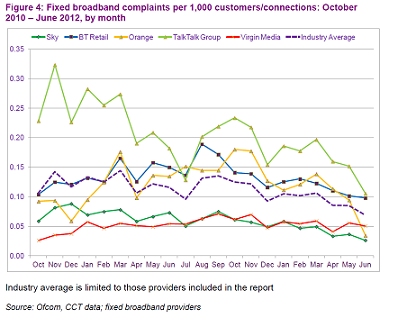 Click image for larger version
The trend for the level of complaints reducing has continued since the last publication in March, the most significant change is that in May and June complaints registered for Orange decreased to a very low level, this ties in with the quarter on quarter reduction in customer numbers levelling out at the provider. TalkTalk at least in June 2012 had its level of complaints almost identical to BT Retail, though we need to see if this decrease is sustained, or just reflects a short term change.
Comments
Post a comment
Login
Register