Ofcom updates telecoms complaint data for major providers
Thursday, March 22, 2012 1:53 PM
Ofcom has issued its quarterly update on the level of complaints it receives about telephone and broadband services. As with previous updates the data only covers providers with more than a 4% share of the market, who also had more than 30 complaints registered in the course of a month. Ofcom receives some 300 complaints every day, though while it logs them it does not act upon any individual complaints.
TalkTalk has reigned supreme as having the most complaints per 1000 customers for a long time, apart from a short period in July 2011. The graph below gives an idea of the general trends over time, which seems to be complaints for the other four providers are slowly climbing, while TalkTalk is improving.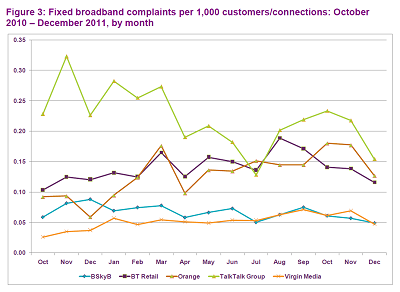 Click image for larger version
While there is no doubt that there are lots of complaints from customers of the TalkTalk group, the vast majority appear to originate with Tiscali or one of the many providers they hoovered up over the years, Ofcom says that TalkTalk complaints focus on connection issues and other service issues.
It is disappointing that Ofcom has still not published any data for the other 10 to 11% of the broadband market that is not covered by this data. It may be that the complaints levels are so low they fail on the 30 a month criteria, at present we simply do not know.
Comments
Post a comment
Login
Register