AAISP connects first business on BT 'fibre-to-the-cabinet' pilot
Thursday, July 23, 2009 9:01 PM
A few weeks ago, we reported that BT was speeding up its fibre-to-the-cabinet (FTTC) rollout to get more of the population connected to faster broadband services.
Yesterday morning, on a busy street in Muswell Hill in North London, we followed a BT engineer who was installing their first FTTC connection to a business premises under this pilot scheme. A few days earlier, the first consumer connection was completed.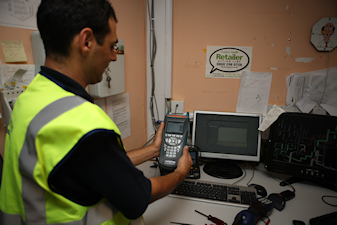 The customer is the East Finchley Budgens store who have been using AAISP for some time and were keen to get a faster broadband service with faster upload speeds in particular as this would give them the ability to install better remote monitoring solutions for the store and improve their interactions with suppliers. The store was expecting a ten-fold speed upgrade from its current 4Mbps connection to somewhere up to 40Mbps. The key of course was upstream speed which was recorded at 1.7Mbps which was more than a twice the upload speed available the previous day. It is expected that future upload speeds will reach 10Mbps or even 15 Mbps, addressing concerns expressed by many about how upload speed increases have not kept up with technology.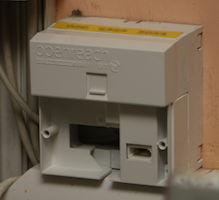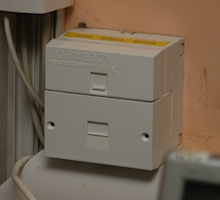 "We aim to be at the leading edge of technology at all times and we are delighted to pilot fibre broadband. Taking part in service trials wherever possible, enables our customers to get the best service possible, stay ahead of their competition and delight their customers. We are pleased that our business customers were the first to be connected to BT's high-speed fibre broadband service in East Finchley.

We see the increased uplink that FTTC can provide to be key to business customers - surpassing SDSL speeds and allowing previously difficult services such as remote monitoring of surveillance cameras, and better VPNs in to head office systems."

Adrian Kennard, Director, Andrews & Arnold / AAISP
The BT Openreach engineer installing the connection was excited to be involved in delivering next generation broadband to residents and businesses in Muswell Hill and a BT spokesperson said that all broadband engineers would be trained for FTTC installs in due course as the rollout programme continues to their respective areas.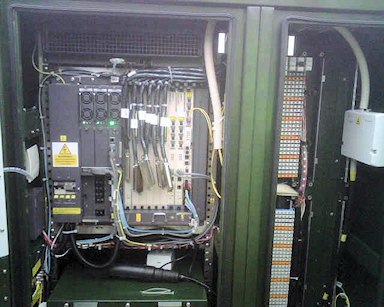 The FTTC solution used by BT is based on the end user premises being connected to a local street cabinet by way of a shorter copper 'local loop' running VDSL2. This differs from current generation broadband where the equipment is housed at the local exchange. With FTTC, the street cabinet includes a DSLAM which terminates the DSL connection and uplinks it by way of Gigabit Ethernet over fibre to the telephone exchange which is capable of speeds from 1Gbps (1000Mbps) to 10Gbps and multiples thereof.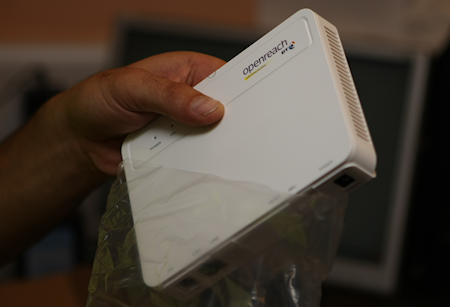 At present, the FTTC VDSL2 solution is an 'engineer install' which mirrors the early broadband services offered by BT and makes it easier to test that the connection is working, but we understand BT is looking at self-install once the technology is more mature. The install involves the installation of an interstitial plate, similar to BT's I-Plate which acts as a filter to ensure an optimum signal and a dedicated BT managed modem to which a user would connect a PPPoE router over a standard Fast Ethernet network interface.
It is worth noting that the speed you can get on this service does still depend on the distance from the street cabinet to your premises, but this will inevitably be shorter than from the local exchange. In this particular case, the street cabinet was next to the wall of the premises in question, although the line distance may still be somewhat longer. This solution is similar to Virgin Media's implementation of a fibre-copper hybrid solution (albeit VM uses coaxial rather than copper pair cabling) and gives BT the ability to compete with Virgin's 50 meg broadband solutions. Virgin is in early trial stages for faster download speeds up to 200 Mbps and upstream speeds of up to 10Mbps.
Comments
Post a comment
Login
Register