Superfast roll-out progress update March 2016
Tuesday, March 8, 2016 12:11 PM
Another month has past and the UK has not hit the magic 90% superfast target, we are moving closer with an extra 0.3% of UK premises now able to order a superfast service. 0.3% sounds like an insignificant number but does comprise around 84,000 added in the last month. Not all of the 84,000 is from Openreach, some will be down to the Virgin Media roll-outs and KC Lightstream service in Hull, but the bulk is Openreach based. The figure also takes into account the distance limitations of VDSL2.
London was a surprise mover in the month, and this is in part due to the restart of the Openreach commercial roll-out in the capital combined with some privately funded cabinets going live for VDSL2. For other urban parts of the UK there is growing ground swell for Openreach to enable more of its cabinets, even though a large number are fully overlapped by Virgin Media, i.e. people want a choice of provider.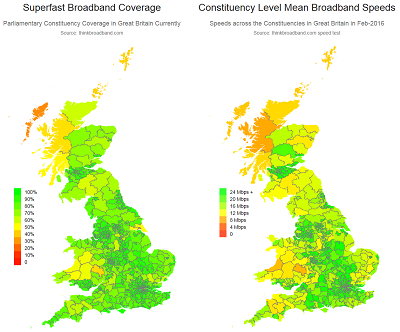 A grey scale version of the superfast coverage (30 Mbps and faster) map is available. Our April update will feature a full UK map, as we can now generate this, the March copy has been posted to our twitter account, which usefully shows the difference between VDSL/FTTP/Cable coverage at any speed and those able to get superfast speeds. It should be obvious but we have to point out that observed broadband speeds from speed tests are always going to lag availability and this is identical world wide, unless you rip out old networks and force upgrades and price rises on customers. Hopefully as take-up increases for the superfast services, we will see the colours of the observation map shift closer to the availability map. If in the next two or three years this does not happen then the vocal complainers who say the BDUK process has delivered nothing wothwhile will be proved right.
A small but important milestone has been reached, previously we reported on England breaking the 24 Mbps superfast 90% barrier and now a couple of months later England has reached superfast coverage at speeds of 30 Mbps or more to 90% of premises.
thinkbroadband calculation of Superfast, USC, USO and Fibre Broadband Coverage across the UK, its nations and regions for premises
In descending order of superfast coverage - figures 7th March 2016
(change since 7th February 2016)
Area
% fibre based
% superfast
24 Mbps or faster
% superfast
30 Mbps or faster
% Ultrafast
100 Mbps or faster
% Openreach FTTP
% Under 2 Mbps USC
% Under proposed 10 Mbps USO
South East
96.7%
93.7% (+0.1)
93.1%
48.7%
0.75%
0.5%
2.7%
London
95.2%
93.7% (+0.3)
93.4%
67.9%
1.41%
0.3%
1.7%
East Midlands
96%
93.2% (+0.2)
92.6%
56.6%
0%
0.6%
3%
North East
94.7%
92.8% (+0.1)
92.4%
50.9%
0.04%
0.3%
2.4%
West Midlands
94.4%
92.1% (+0.5)
91.6%
61.6%
0.07%
0.5%
3.5%
North West
95.1%
91.9% (+0.3)
91.3%
45.7%
0.44%
0.7%
3.9%
England
93.6%
90.6% (+0.3)
90%
52.7%
1.14%
0.6%
4.2%
United Kingdom
93%
89.5 (+0.3)
88.9%
49.9%
0.98%
0.8%
5%
East of England
92%
88.5% (+0.5)
87.8%
47.7%
0.34%
0.8%
5.4%
Wales
90.6%
86.2% (+0.3)
85%
29.1%
0.4%
0.9%
8.3%
South West
91.1%
86.1% (+0.5)
85.1%
42.8%
2.5%
1.1%
7%
Yorkshire and Humber
88.5%
85.3% (+0.3)
84.5%
48.2%
3.04% (includes KC Lightstream)
0.7%
7.1%
Scotland
87.6%
83.6% (+0.4)
82.8%
39.2%
<0.01%
1.3%
8.8%
Northern Ireland
95.7%
78.7% (=)
77.1%
27.2%
0.07%
7.2%
14%
The roll-out from Virgin Media Project Lightning is having a small impact on the superfast figures, as it may help some in urban areas on the fringe of Openreach cabinets, but the Virgin Media roll-out which is a mixture of traditional cable and FTTP is generally boosting the ultrafast figure. Unfortunately there is no way of knowing where Virgin Media is deploying FTTP without precise local observation, so we are not adding their figures to the FTTH/FTTP numbers we track.
Of the 0.3% increase in coverage in Wales in the last month almost one third has been native FTTP areas finally going live and based on reports from Wales there is much more to come, but the pace will have to pick up if the 80,000 FTTP premises (around 4%) previously suggested is to be reached. The problem with the GPON FTTP roll-out is not technical, but simply the time it takes roll-out, and then the subsequent extra install effort needed for each premise that orders the service.
What is going to be interesting in a few months is once the UK wide 90% superfast target has been met for both 24 Mbps and 30 Mbps definitions, what difference the Gigaclear, B4RN, IFNL and other FTTH networks will make to things like the USC coverage levels. The mail bag with concerns over availability of fixed wireless solutions and line of sight issues, means that while will we may advise that a fixed wireless option is available until we have seen take-up and speed test results for a postcode we may not roll wireless coverage information into data to reduce 2 Mbps and 10 Mbps not-spots.
For all those who've not been helped by the BDUK roll-out in any shape or form it is easy to say the project has achieved nothing, but the most rural area of the UK i.e. rural hamlets in sparsely populated areas that comprise 0.7% of UK premises have superfast broadband available to 40.4% of premises, this is split with 1.8% on Openreach FTTP and the other 38.6% getting superfast via VDSL2, if you remove the 30 Mbps speed qualifier then the FTTC/P availability actually climbs to 61.2%. The difference is the effect of line length on VDSL2 performance but given many of these areas have until now only had up to 7.15 Mbps ADSL exchange based services, even a jump to 10 Mbps download and 2 Mbps upload (improved backhaul capacity and DLM systems too) will be welcome or maybe not based on social media reactions.
Comments
Post a comment
Login
Register