Why Ofcom changed the way 2 Mbps postcodes are defined
Tuesday, May 21, 2013 11:47 AM
The data Ofcom has used to arrive at the figure stating that 95.3% of the UK has access to broadband of faster than 2 Mbps was published as part of their 2012 Infrastructure Report, and we have taken the liberty of plotting the data, based on how the USC was measured in 2012 and how Ofcom is now measuring it. The red spots plotted are those postcodes that fail the USC test.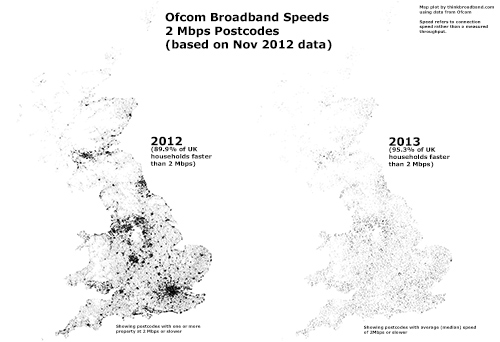 (click image for larger version)
A full size image (3952x2704 pixels) is also available.
Statistically speaking there is some sense in adopting the new method, where only postcodes that have a median or average speed of 2 Mbps or slower are counted as slow spots. The previous definition of the postcode was plotted if any property in a postcode had a slow speed could have meant that people with poor extension wiring were contributing to the picture, or those with old legacy products.
The big problem though is that the new metric makes the situation look actually pretty good and if taken as gospel could lead to many people being overlooked in the rush to publish statistics in 2015 that show that 99.9% of postcodes have an average above 2 Mbps. The advantage to the new method is that it identifies the worst postcodes, and if you have limited funds to solve the problem it tells you where to start spending the money.
Yes we know Northern Ireland is missing from our map, alas we do not have the geo data to plot those postcodes at this time.
The original Digital Britain report recommended that in addition to spending money on infrastructure improvements, that some money be spent to try and improve speeds on existing technology that is in the ground, and while the volume of people with poor telephone wiring in the home has decreased we still see constant stream of people where their broadband speeds are improved with some help, sometimes allowing people to watch catch-up TV online for the first time.
Comments
Post a comment
Login
Register