Ofcom consult on white space spectrum geolocation database
Tuesday, November 9, 2010 2:36 PM
Ofcom have launched a new consultation today that looks at progressing technology which will allow new wireless technology to be deployed in the UK. White space spectrum is the unused gaps which exist between TV channels broadcast over the airwaves and are used as barriers to avoid interference between different channels. The gaps in spectrum do however offer useful bandwidth that could be used by other devices. The US regulator, the FCC, recently approved the use of white space spectrum in the 470-698MHz range for use by what it dubbed 'super Wi-Fi.' This is basically, Wi-Fi but on steroids- it can travel further due to the lower frequencies and also offer faster speeds than the existing 2.4GHz and 5GHz spectrum.
One of the main hindrances to using this spectrum is the ability to know what spectrum is available to be used in different locations and the consultation today looks at how geolocation can be used to help implement a database system that can be queried by white space devices (WSD). A simple idea of how this could works can be seen in the below image. The WSD labelled Master would query Ofcom online for a list of databases, which it then itself queries to find out what frequencies and power levels can be used. This information can then be used when talking to a client device to tell it what it is allowed to do in this area.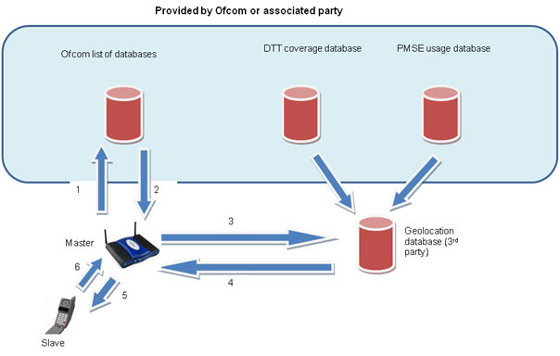 Ofcom proposed geolocation system for white space spectrum
The main drawback from this type of system is that it would require an Internet connection to be able to query the databases which could limit the use for this technology which might prove to be useful as in-fill for next-generation broadband. The process is not however set in stone, and is open for responses until the 7th of December 2010.
Comments
Post a comment
Login
Register