Hi-Velocity users experiencing migration problems
Thursday, December 4, 2008 1:01 PM
Users of the provider Hi-Velocity have been contacting us over problems with obtaining Migration Authorisation Codes, in some case taking weeks and for one customer they were told that the delay was with BT, but upon further research by the customer they managed to discover their connection was a Tiscali based one and a MAC was obtained from their wholesale division.
Hi Velocity uses the ISPA logo on its website, but does not appear to actually say they are members of ISPA, the inference of using the logo though is that they are current members. ISPA has confirmed Hi-Velocity was previously a member but is no longer a member.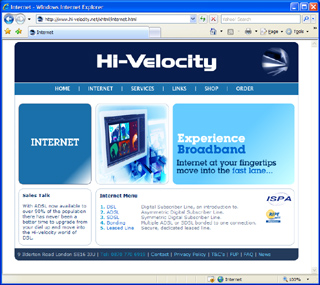 Screenshot from Hi-Velocity website
Under Ofcom rules all telecommunications providers are duty bound to belong to one of two Alternate Dispute Resolutions schemes. The providers website lists CISAS, but gives the contact details for The Chartered Institute of Arbitrators, contacting CISAS reveals that Hi-Velocity was a member in the past, but is not currently. Contacting Otelo reveals no sign of Hi-Velocity being a member of that scheme either.
Thus if customers of Hi-Velocity are not getting anywhere this leaves Ofcom, who while they do not act on individual issues, will intervene once a pattern of problems has been identified.
We originally emailed Hi-Velocity a week ago over the migration problems, but have not had any response, and on telephoning them to enquire as to which ADR scheme they use was informed the manager was in a meeting and the member of staff was new and did not know the answer. On calling back after 30 minutes as advised we sat in the queue for 15 minutes even though we were first in the queue.
If you are having problems in terms of obtaining your migration code from Hi-Velocity, then as well as contacting Ofcom you can share your problem with others on our forums.
Comments
Post a comment
Login
Register