Vision Fibre Media and Keycom service in the Barbican tops UK postcode speed chart
Monday, February 1, 2016 11:29 AM
The 1st of every month means a day spent sifting through the analysis of our broadband speed test results from the previous month and when looking at postcode areas what at first looked to be an anomaly jumped out at us.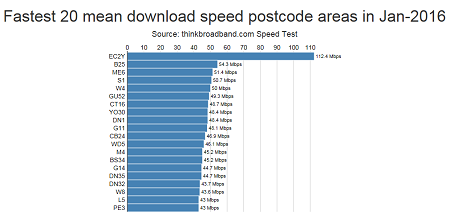 EC2Y is the area of inner London between Moorgate and Barbican tube stations and smack in the middle of a part of London where BT is constantly berated over poor broadband provision, so how can there be a mean download speed of 112 Mbps. We looked at the actual tests in the area and the reason was obvious, Vision Fibre Media who awarded a contract to Keycom to do some of the roll-out of Gigabit broadband to the Barbican area has delivered and the tests we saw were across the Keycom network. The average upload speed at 57.2 Mbps in EC2Y is equally impressive.
Alas not everywhere has these sort of speeds, but it illustrates how there is a lot more to the UK broadband picture than Openreach and the BT Group, and whatever Ofcom decides to do with regulation and Openreach it must consider the providers who are delivering roll-outs like this.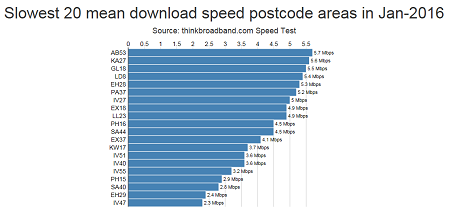 The bottom end of the postcode table is not so pretty, so the slowest mean speed for IV47 on parts of the Isle of Skye has a median download speed of 1.8 Mbps with the slowest quartile at under 0.7 Mbps.
Update 6pm Vision Fibre Media have now supplied their IP range so we should be able to track residents using their packages, and the postcodes have also been added to our availability checker.
Comments
Post a comment
Login
Register