Updated Broadband Factsheet published
Tuesday, November 27, 2012 9:10 AM
Our popular broadband factsheet has had its quarterly refresh to reflect the key changes in the various statistics and facts that are part of the UK broadband scene.
To make it easier for people to use the content held within the factsheet, we have broken out the various pages into jpeg image format, with 15 different info graphics available for re-use in a variety of resolutions.
With the political target of the UK having the best broadband of all the major countries in Europe for 2015, we thought it would be worth looking at what services are likely to be available, and then working out what the average speed will be for the UK in 2015.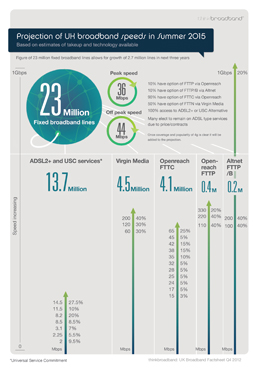 Click image for larger version of infographic
The resulting peak time speed of 36 Mbps is three times the figure that Ofcom recently revealed the UK currently runs at, and most of this rise is due to increasing take-up of FTTC services and the likelihood that Virgin Media will run another speed upgrade programme in response to the increasing competition from the full fibre products from Openreach (FTTP/FTTP on demand) and the growth of FTTP services from a variety of altnet providers.
We have been careful in the projection to take account of the variable connection speeds for services such as ADSL2+ and FTTC. Fixed wireless and 4G is not featured at this time in the estimate, 4G speeds are too much of an unknown currently, and while fixed wireless is available to many areas of the UK there is very little data on current take-up levels to estimate a figure for 2015. We will publish near projections as the quarters pass, and hopefully once the local authority broadband projects start delivering we can nuance the detail more, and maybe even provide regional figures.
Comments
Post a comment
Login
Register