BT 21CN Update
Friday, September 4, 2009 11:41 AM
21CN, BT's new 21st century network which is being deployed to unify all of its existing networks, has been in use for some time and many users now receive their broadband connection through it. The core network is complete, with the first phone call having traversed the new network toward the end of 2006. The focus now is on the customer access side to get voice and data running across it. BT expect to have coverage of 55% of the UK by Spring 2010 . For most, 21CN means faster broadband with speeds 'up to 24 meg' (with the actual speed achieved depending on the quality of your telephone line), however, there are much larger changes afoot than just increasing the speed of your connection. The whole underlying network from your local telephone exchange up to the handover point with your broadband provider changes with 21CN, and it also brings the possibility to provide new services such as fibre-to-the-cabinet or Ethernet products using the same infrastructure.
BT have announced that existing '20th Century' (20CN) broadband connections can also be delivered over a 21CN Wholesale Broadband Managed Connect aggregation connection over IPStream Connect as from the end of September. This enables broadband providers to move existing customers on to the new network to gain cost benefits by not having to run the old 'BT Central' based networks alongside the new network. Other benefits include being able to flex bandwidth requirements on short notice so demand for services can be met more rapidly. Previously, providers had to a face a 65 working day lead time, but this has reduced to just 5 days, with a 3 month minimum commitment instead of a year.
"Griffin is keen to stay ahead in the broadband market so we can offer our partners and their customers the very best possible service. We have been working closely with BT Wholesale on 21CN and we are really excited about the benefits that WBMC and IPstream Connect offer."

"IPstream Connect is a far more efficient way of interconnecting with BT Wholesale's IP backbone and WBMC will bring faster and more business-grade ADSL to the small and medium-sized business market."

Andrew Dickinson, (Sales and Marketing Director) Griffin Internet
Of course, any new large scale network deployment such as 21CN is bound to see problems, and 21CN is no exception. Lately, one of these problems has been congestion. This is not a new problem in rolling out new network infrastructure and has been well discussed in relation to the 20CN network and continues to happen on occasion. However, when faced with a new network and new technologies running over it, predictions of usage and speed of growth can often fall short. Users may see the effect of this through increased latency on their broadband connection and some reduced speeds. Indeed, latency monitoring of one of thinkbroadband's 21CN DSL connections below shows this problem: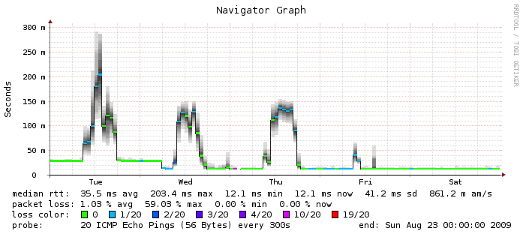 Graph showing latency on one of the thinkbroadband 21CN lines showing very high peak time latency on period up to morning of 21st August when the issue was fixed.
In early August, BT found that around 3% of the WBC network was falling below the capacity planning rules, but the problem has now been resolved. BT have been working hard to upgrade capacity and ensure better planning is in place so these problems can be avoided in future. Problems have also been evident on the old 20CN network and details of areas affected recently by both types of issues can be found in the AAISP status blog.
Another problem users may have seen is long outages due to planned maintenance. BT have scheduled maintenance of 3 to 4 hours to do upgrades to core nodes in the network and in some cases this has meant that all users of a provider using 21CN are left offline whilst these upgrades occur to the node that the service provider is connected to. As more users migrate over on to 21CN with the new WBMC and IPStream Connect, such outages are likely to affect more people.
"Our network and systems are regularly upgraded to consistently offer the best possible customer experience; to meet our service level agreements and to deliver future services and applications. For the most part these upgrades are pre-planned with many changes achieved without our customers noticing. For each upgrade we assess the risk of service disruption and, if appropriate, work with Communications Providers (CPs) to ensure they are aware of what is happening and how this may affect their customers.

But the unexpected can and does happen. Unfortunately, we have had issues recently where WBC network and systems upgrades have caused end user customer disruption and in some instances loss of service. We apologise for the inconvenience caused. BT has undertaken a thorough review and our processes and procedures have been appropriately enhanced."

BT Spokesperson
Adrian Kennard of AAISP argues resilience would be expected in a network of this kind that would allow devices to be taken offline for maintenance without completely disconnecting large chunks of customers. It is worth noting that it is possible for an ISP to get multiple WBMC connections in different nodes which can reduce the impact (albeit at a significant cost), however users connected to one of the twenty WBMC nodes around the country would still be affected by maintenance as no redundancy exists at the node level. AAISP have signed a deal to use BE's unbundled platform so that they can deliver customers resilient connections over two separate infrastructures.
Broadband service providers we have spoken to seem to be embracing 21CN, moving chunks of customers over to it to manage any teething issues quickly and to avoid ordering further 20CN central pipes.
Comments
Post a comment
Login
Register