Get On and Get It!
Tuesday, June 17, 2003 12:44 PM
If you live in a rural area not yet covered by broadband, you could have spotted some anonymous-looking bright stickers, posters and other promotional material in your local area encouraging you to register for broadband. This campaign is being funded by BT Wholesale and run in conjunction with local campaign groups, but unusually, does not bear the BT brand in any of the promotional material, a rather innovative concept by creative agency, White Door, on similar lines to the "Save the Countryside" campaigns.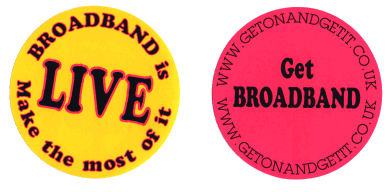 The 'Get On and Get It' campaign is a 'campaign in a box' solution aimed at making it easier for local users to start campaigns and promote the benefits of broadband in their own communities and thus stimulate demand with the aim of getting the local exchange enabled for ADSL. Twenty areas are currently piloting the new marketing material as of yesterday and BT is expanding this over the next six months or so to reach anything up to a thousand local areas by the end of the year. Campaigners can register on the website and receive stickers, posters, flyers and more, all free of charge in three stages depending on the status of their campaign. The "Go" stage (identified by bright red coloured posters, etc.) is to encourage people to register their interest to get up to the trigger. Once the trigger has been reached, the "Countdown" stage promotes broadband use and their benefits. The final "Live" stage (identified by the yellow stickers, etc.) takes place once the exchange has been enabled and ensures the residents are aware of the new service available to them.
If you can't get broadband, and you don't already have a local campaign, why not start one? Let's paint the countryside yellow!
More information on www.getonandgetit.co.uk [seb]
Comments
Post a comment
Login
Register