The broadband factsheet was a document published by thinkbroadband quarterly between 2012 and 2014 to present UK boadband statistics. It is presented in an easy-to-understand graphical form.
We are currently not publishing new factsheets, however the old ones are provided here for reference. We may look to start re-publishing the information in a slightly different form.
The latest factsheet for Q1/2014 was published on 05/03/14 and is available for download: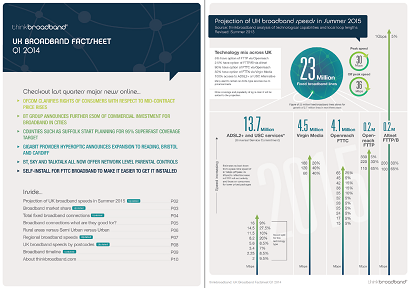 (click on the image to download the current factsheet)
Previous factsheets
| Edition | Key Topic | Date Published | Options |
| --- | --- | --- | --- |
| Q1/2014 | The latest UK regional speeds showing fastest and slowest broadband areas | 05/03/2014 | download |
| Q4/2013 | Updates to market share of major broadband providers in UK | 28/11/2013 | download |
| Q3/2013 | UK regional broadband speeds and revised projection for UK wide average speed in 2015 | 10/09/2013 | download |
| Q2/2013 | Latest market share changes and improved information or rural/urban digital divide | 02/07/2013 | download |
| Q1/2013 | Effect of the acquisition of O2/BE customers by BSkyB and projection of UK broadband speeds in 2015 | 08/03/2013 | download |
| Q4/2012 | Projection of UK broadband speeds in 2015 and updated broadband market share | 26/11/2012 | download |
| Q3/2012 | Broadband speeds in rural and urban areas and what is possible with different speeds of broadband | 01/10/2012 | download |
| Q2/2012 | First factsheet; Breakdown of BT Group, Virgin Media and TalkTalk markets | 28/06/2012 | download |
What does the factsheet include
Each edition of the factsheet will contain core statistics as well as a special feature (beginning from the second edition) on a particular topic of interest in the broadband scene.
Core topics
Highlights from broadband news in last quarter
Broadband availability
Average broadband speeds across regions
Slowest and fastest parts of the UK
Access to superfast broadband
Current & historic market share of the largest broadband providers
Data usage for common applications
Informational Topics
We seek to include information on how broadband works or how the markets are regulated by Ofcom.
Telephone exchanges & Markets (Market 1 / 2 / 3 / Kingston)
Broadband Timeline
Recent key developments in broadband