Sections
Introduction
What you get for your money
Using the Router
Performance
Conclusion
Photos


Introduction
The latest Sky router replaces the older Sagem 2504n model which looked like a mini Sky+ box. The new router has more of the appearance of a Mac mini or other small form PC.
The new router is available for £39 to existing customers until January 2013, when the price will rise to £69. The question is whether it is worth upgrading, and after this short review you will hopefully have a better idea of how the two routers compare. The hardware is locked to the Sky broadband services.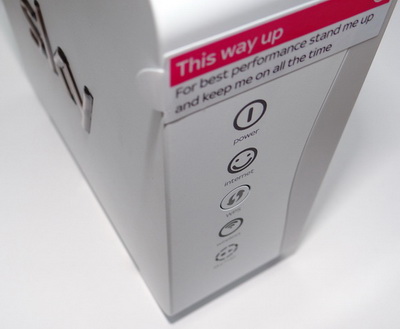 Click image for larger version
The new router supports 802.11n but only up to a connection speed of 144 Mbps, with no dual-band support. Additionally the LAN ports are all 100 Mbps only, which for the current generation of FTTC (up to 80 Mbps) products is OK, but suggests another router will appear if Sky ever starts selling an FTTP service.
What you get for your money
The cardboard packaging is pretty minimalist, exactly the sort of box you would expect an engineer to arrive at your door with really. Inside you get an ADSL lead (thoughtfully plugged into one microfilter) and a mains lead. There is a second microfilter and Ethernet cable hidden underneath the router and its Set Up Guide.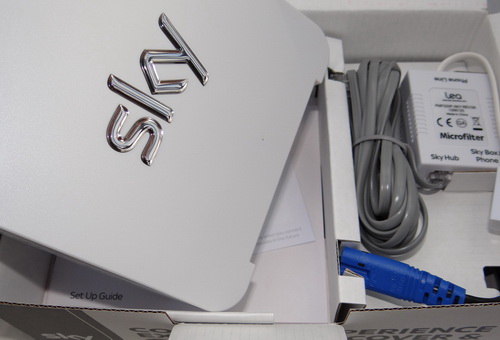 Click image for larger version
The router has its power supply built in, which helps to avoid the power brick clustering we all end up with on extension strips. There is no power switch on the router, so for those going on holiday for a week or two and want to switch things off, unplug at the mains socket.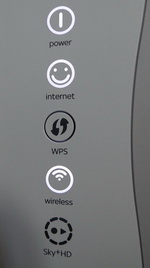 Click image for larger version
The front of the router features four LED's, and the WPS button. The wireless LED flashes red when the WPS system is used to link devices to the router. Sky helpfully includes a small credit card sized note of your default wireless password and PIN, as well being written on the rear of the router.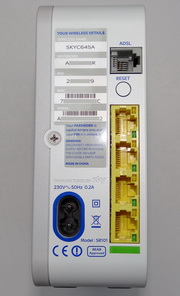 Click image for larger version
Using the Router
The router is pretty easy to use. Unpack it, remove its plastic wrapper and plug all the leads in, power it up and wait for a minute for it to sync and authenticate with the ADSL2+ service. You will get a smiley face once the router is ready.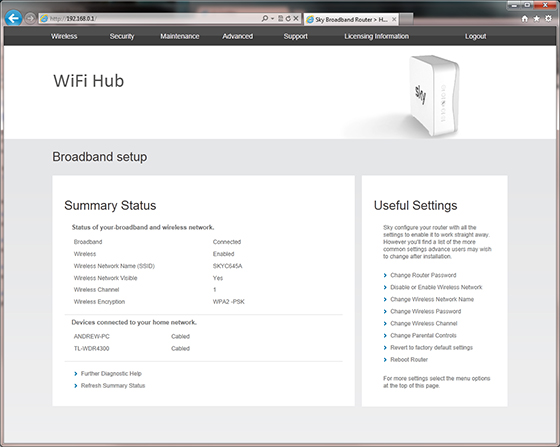 Click image for larger version
The routers default IP address is 192.168.0.1, with a username of admin and password sky. The further diagnostic help page provides more details, including your connection speeds.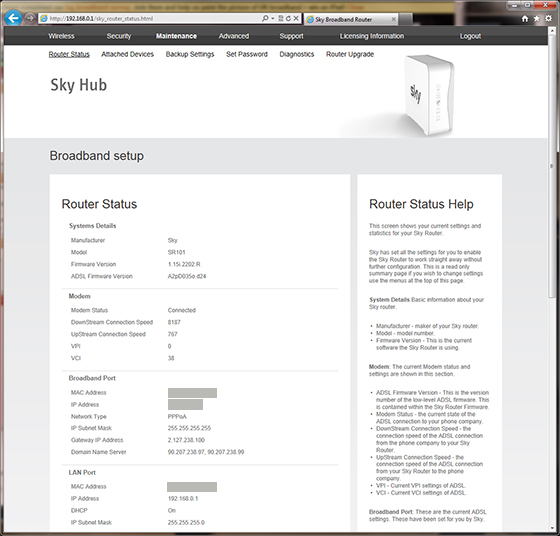 Click image for larger version
A Show Statistics button at the foot of this page will display your ADSL2+ services attenuation, noise margin and connection speeds.
The router has the basic wireless security configuration options, and if you find your devices are not 802.11n compatible you can reduce the wireless standards to the slower more compatible modes if you need to.
As the router is locked to Sky, there is very little in the way of WAN setup, beyond support for DMZ, port forwarding and other basic features. The router helpfully has WAN ping/icmp response enabled by default and works with our Broadband Quality Monitoring system.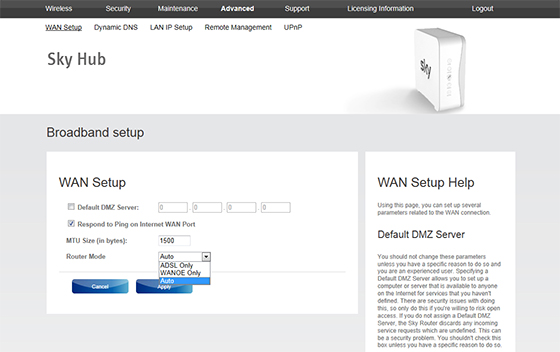 Click image for larger version
The screenshot shows the router is configured to automatically detect the mode to operate in, with the router using the ADSL socket when it detects a signal on it, otherwise it will look for the Openreach FTTC modem on the bottom LAN port. You can force the modes if you want to.
Performance
The new SR101 Sky router has been touted as having better automatic channel hoping and wireless performance. So we have done our standard speed testing on it, and with just a 144 Mbps wireless signal, it is fair to say that we did not expect the router to beat the speeds seen by many third party wireless routers and access points.
Sky SR101 Router located on top floor
Location
Wireless Link Speed
Measured Speed
Gigabit LAN Switch
1000 Mbps
685 Mbps
SR101 100 Meg LAN
100 Mbps
93 Mbps
Same room LAN to WiFi
144 Mbps
55 Mbps
Middle Floor
144 Mbps
52 Mbps
Ground Floor
116 Mbps
42 Mbps
Kitchen
13 Mbps
4.5 Mbps
Conservatory
5.5 Mbps
0.5 Mbps
Shed
No signal
No Signal
Sky SR101 Router located on ground floor
Location
Wireless Link Speed
Measured Speed
SR101 100 Meg LAN
100 Mbps
93 Mbps
Same room LAN to WiFi
144 Mbps
51 Mbps
Middle Floor
144 Mbps
38 Mbps
Ground Floor
116 Mbps
34 Mbps
Kitchen
130 Mbps
32 Mbps
Conservatory
52 Mbps
20 Mbps
Shed
6 Mbps
0.1 Mbps
Old Sky Sagem 2504n Router located on top floor
Location
Wireless Link Speed
Measured Speed
SR101 100 Meg LAN
100 Mbps
93 Mbps
Same room LAN to WiFi
144 Mbps
50 Mbps
Middle Floor
144 Mbps
42 Mbps
Ground Floor
116 Mbps
27 Mbps
Kitchen
38 Mbps
19.2 Mbps
Conservatory
19 Mbps
1.2 Mbps
Shed
5.5 Mbps
0.2 Mbps
The property is an older style brick building with wooden floors, hence the good signal vertically, the kitchen and other rooms give worse reception as there are brick walls in the way. The shed has a floor, wall and 25m of outdoor space, hence why it is usually the limit for wireless hardware.
Conclusions
With the old Sky router and new Sky router offering essentially the same nominal wireless speeds there is very little between them. The old router appears to perform better on the fringes of reception, which is a surprise given the marketing claims. We did the extra readings on the ground floor so that people could assess the horizontal propagation.
So the conclusion is if you have the Sagem 2504n, save yourself £39 and don't upgrade. If you have an older different model of Sky router then the upgrade might be worthwhile.
If the router had added support for USB storage or Gigabit LAN ports and the option of 300 Mbps Wi-Fi then the decision would be harder, it seems for now that the market for wireless extenders like the Asus EA-N66 is still safe.
Photos
Please click on an image to see it in full resolution.