ARCHIVED CONTENT
This content is being maintained for reference purposes but is not being updated.
Sections
Introduction
What you get for your money
Connnecting the units
Performance
Conclusion
Links


Introduction
A new way to get broadband around your home is on the market, and it arrives in the form of Ethernet over coax cable. It is not meant to be a replacement for Ethernet cables, but rather to help connect devices like smart TV's without the need for lots of extra new wiring.


Click image for larger version
The echoBox from Asheridge works with the coax cabling the majority of us have installed in our homes, and even in new build properties many rooms have a TV coax socket that could support an echoBox. The system is compatible with Freeview signals, but will not work on cables that are carrying satellite TV.
The standard the units adhere to is called MoCA (Multimedia over Coax Alliance) and supports throughput of up to 175 Mbps.
A minimum of two boxes are required to create a basic network, but potentially 16 boxes can be placed around a home to give Ethernet connectivity in every location you have a coax connector.
What you get for your money
The echoBox units are sold individually for £70.45, with a pair costing £135.40 (including P&P). They come with a set of connectors and adaptors that are localised to the country of sale. Leads supplied in the UK are:
White 1m f-connector lead
Black 0.45m Ethernet patch cable
2 x Coax socket to f-connector adapter
Coax plug to female f-connector


Click image for larger version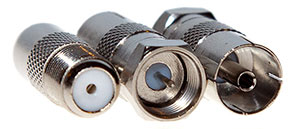 Click image for larger version
There is no setup CD, just a small four page instruction leaflet, as the devices are very much plug and play.
Connnecting the units
The connectors supplied should suffice for most coax connections in the UK. The simplest possible connection which we used to test the devices worked initially, was to connect the CABLE IN connectors using the supplied white lead. Once you have then plugged the units in, the orange MoCA led will light up after about 30 seconds. You could test the Ethernet by connecting one unit via Ethernet to your router and the PC to the other.


Click image for larger version
In reality people will not have bought these units to bridge a distance of just a metre, but rather are looking to connect devices across floors of a house. In this case the wiring is really just as simple, that is assuming the coax cabling is either a direct run of cable, or joined together by a TV amplifier. The process is:
Plug the echoBox power adaptor in and turn on
Unplug coax lead from TV
Plug this into the cable in socket on the echoBox using appropriate adapter.
Plug the TV into the echoBox Loop out socket using the supplied white lead and adapters.
Repeat 1-4 for as many units as you have.
Once two or more units are connected you should see the orange MoCA led a few seconds after connecting each one.


Click image for larger version
The Ethernet socket on each echoBox, supports both 100 Mbps and Gigabit Ethernet. The units have no IP presence; they operate as an invisible bridge, so potentially could be used for linking a DSL modem to a remotely located Ethernet router without any impact on the IP layer.
The small pin hole on the front right of each unit is a small reset switch that can be accessed with a pin, although during the review we had no need to revert to using it.
Performance
Speed and convenience is the main reason for buying these units, and as many people are discovering 2.4GHz and 5GHz wireless can give highly variable performance, and for things like Internet TV and gaming, variable performance is something to be avoided.
We used two computers to do the testing, and while they were connected to the same switch, we ran the testing software to ensure that no cabling or software would be the bottle neck, and we managed to sustain a throughput of 600 Mbps in any one direction at a time. Testing was then performed under the following conditions:
| Test | Measured Speed |
| --- | --- |
| Two echoBox's linked by white fly lead | 72 Mbps |
| Two echoBox's linked by 10m coax (1 floor apart) | 72 Mbps |
| Two echoBox's linked by 20m coax (2 floor apart) | 66 Mbps |
We did the tests in both directions and the results were the same, and importantly the throughput was a very steady level. In the same locations but using Devolo dLAN 500 units we got very similar performance levels, most good 802.11n wireless networks should match these speeds when one floor apart, but we have that that wireless speeds would vary a lot more even over short time frames. Two floors apart the echoBox was matching or performing better than most wireless hardware and importantly offered a consistent throughput, which for video streaming is very important.
The 175 Mbps throughput that is part of the MoCA standard arises from the usual practice with wireless hardware of adding throughput together in both the downstream and upstream direction. Therefore while we got a maximum performance of 72 Mbps, this would be 144 Mbps expressed in the usual advertising terms for devices like wireless adapters.
We looked at latency, and it was pretty consistent at 2 to 3ms when measured over a long time period, avoiding the spiky latency that can be a factor with wireless.
We ran one unit in a loft space next to the TV amplifier, and even though it was the hottest few days of the year, the units ran cool, and the power supplies were surprisingly cool. When many routers and HomePlug devices almost can be too hot to handle sometimes, the echoBox's appear well designed to not waste energy.
For those wondering if there is any impact on the Freeview TV signal, we could see no change and the design is such that there should be no impact either.
Conclusion
The price of the echoBox means that those people who are happy fitting Ethernet cable in their home and using punch down tools will probably still prefer to install it, but for the millions who don't want the hassle of installing yet more cables in their home, or perhaps are not allowed to do so by their landlord, the echoBox offers a real alternative.
The price of approx. £70 per echoBox may seem high, but when the USB wireless adaptor for a Smart TV can cost £50 to £60 and still offer a poor connection, investing in a couple of these units seems a much safer bet. In the few weeks we have used the units they have been easy to forget about, as they just keep on working.
The throughput is well above what any IPTV service offers in the UK currently, but if you are linking three or four TV's to the Internet and have a DNLA media server in the home, the ability to stream media locally at bit rates that are better than satellite TV HD transmissions will be very welcome.
Links
Multimedia over Coax Alliance (MoCA®)
Asheridge echoBox website
Asheridge Sales and resellers links