ARCHIVED CONTENT
This content is being maintained for reference purposes but is not being updated.
D-Link Corporation was founded in Taiwan in 1986 and since then has become a leading manufacturer of Networking, Connectivity and Data Communication products. The D-Link product portfolio ranges from network infrastructure to USB hubs and print servers. This review looks at the DSL-504 ADSL Router from the range of broadband products (see also DSL-200 review). The DSL-500 is a single Ethernet port version of the DSL-504.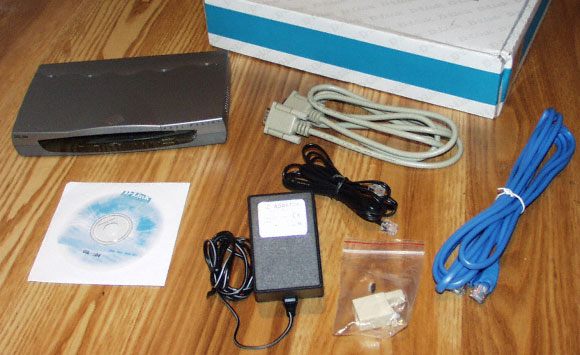 Components - Router, Installation CD + Manual, A/C Adaptor, RJ-11 ADSL cable, DB-9 console cable, Ethernet cable.
The DSL-504 features a 4 port Ethernet switch, NAT, DHCP, IP filter and up to 8Mbps speed for future expansion. You'll be able to change the speed of your ADSL connection without the worry of changing your router. The DSL-504 will automatically detect the speed of your line upon connection. An optional crossover plug is supplied but is not required for BT ADSL connections. The manual is fairly brief and only provides two pages of information about the command line interface compared to about fifteen for the web interface. D-Link have supplied the manual on the CD in PDF or Word Document format. My review was delayed because I was sent a European power adaptor. D-Link didn't have any spare UK ones at the time, so I bought a matching UK one myself.


Rear connectors - Power connector, console port, 4 x Ethernet ports, ADSL RJ-11 socket
The DSL-504 does not have a power switch which strikes me as a little strange considering it's the easiest component to implement! To power cycle the router, unplug the power lead or use the mains switch instead. There is no cross over port or button for the 4 port switch - fortunately it seemed to automatically sense both speed and cable type (parallel or non-parallel).
Setup
Physical setup is a piece of cake. Just power up the router, connect the RJ-11 cable to your ADSL splitter and the Ethernet cable to your hub or computer. Connect the console port to COM1 or COM2 on your PC and ensure that it is running at 9200bps. This can be configured by selecting properties on the port in Windows device manager.
The default IP address is 192.168.0.1 - you'll need to either change your computer's address to the same subnet or connect to the router using the console cable with a program such as Hyper Terminal (supplied with Windows) - the manual contains a guide for this procedure. The web interface is as good, if not better than any other. They all appear to use the same or similar generic software which has been customised by each manufacturer. I frequently see identical error messages (such as login failure) on different routers.
Web Interface Features
DHCP -
Standard configuration options including Start/End IP address, subnet mask, gateway, one DNS server (the DSL-504 does not act as a DNS relay unfortunately) and lease time.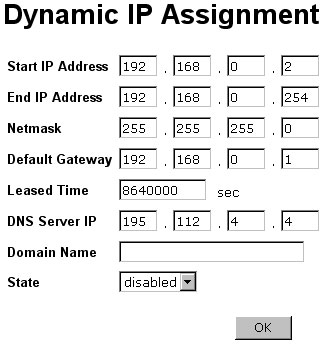 DHCP configuration pane
NAT - Options to enable or disable (for real IP mode) and default (DMZ) host support for redirection of all packets to an internal system (very useful for diagnostics and gameplay).
Port Redirection - Standard feature with routers performing Network Address Translation is to allow an external port to be redirected internally. The port redirection allows the user to run multiple servers behind the router and present them all under one single IP address.
IP Filtering - The web interface implies that the DSL-504 will act as a firewall in addition to IP filtering. The only mention on the D-Link website is as follows:
"The router provides many security features found in firewalls such as IP filtering, socket filtering, NAT which makes your internal network invisible to the outside, and Virtual Private Networking (VPN)."
The IP filter is disabled by default but can be enabled and configured using a standard group/rule based system.
The DSL-504 does not provide any logging facilities at all and management services such as SNMP have to be configured on the command line. Saving changes on the web interface is very poor indeed. The router tries to make you restart it for the most trivial of things such as a port mapping or DHCP configuration change. The restart means that you lose connection to your ISP and have to wait around 1 minute before connected again. I found that the restart was not actually required in many cases (don't ask me why it wants restarting!).

Saving changes is a pain! Restarting takes around one minute and loses connection.
I was concerned that the router allowed connections to the web interface from the Internet. I could not find a way of preventing this from happening (other than specifically adding a rule into the IP filter to deny port 80 access). I tried upgrading the firmware (see Firmware Upgrade below) to the latest version (R1.14) which fixed the problem and added a new option on the web interface to disable/enable remote access. I advise all users to upgrade to the latest version before using the DSL-504. Note: the web interface is password protected but it's still worth disabling external access. If you enable remote access, use the IP filter to control who can connect.
Firmware Upgrade
The DSL-504 has the easiest upgrade process I've ever seen. The software does everything for you - all you need to do is run it. The upgrade utility will search for your router on the LAN (a list is provided if multiple devices exist).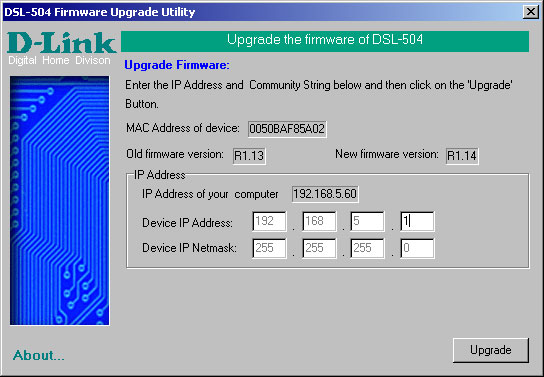 Firmware upgrade process
The firmware upload clears all configuration settings so you'll have to run through everything again once completed. Unfortunately, there is no way of backing up the router configuration so ensure that you note down important settings before upgrading.
Startup Errors
During the initial boot process, I noticed error messages appearing on my console connection. The router eventually fired into action after this delay. I contacted D-Link support and was sent yet another new firmware release (1.14a) which solved the problem. It appears that D-Link are at least addressing common problems and working to release fixes.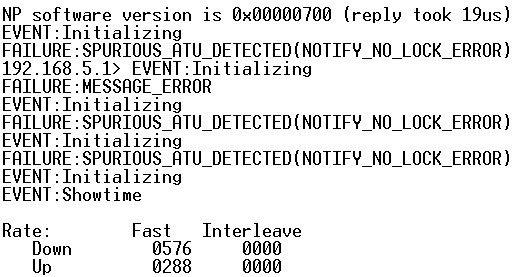 Startup errors on the DSL-504 - Solved with firmware upgrade to 1.14.
Verdict
The DSL-504 is easy to setup and maintain with features suitable for the majority of ADSL users. It is let down by a lack of flexibility when it comes to using and saving configuration settings. The command line interface is disorganised, fairly hard to use and understand. The documentation is adequate but only focuses upon the web interface. The router lacks a number of important features such as backup, logging and DNS relaying. I used the DSL-504 for two weeks with no stability problems. Response times were around 20ms and download speeds were unaffected.
---
Prices:
£85.00 (excluding delivery and VAT - dabs.com) – D-Link DSL-504
£79.00 (excluding delivery and VAT - dabs.com) – D-Link DSL-500 (single port version).

Where to buy:
See our DSL Hardware FAQ

Specs:
http://www.dlink.co.uk/long_desc.asp?id=302

Key Features (D-Link website)

ADSL port, 4 10/100Mbps Fast Ethernet switched ports
Supports both 8Mbps G.dmt and 1.5Mbps G.lite versions of ADSL
Automatic sensing and configuring for the above two ADSL versions
Bridged Ethernet over ATM, IP over ATM, PPP over ATM
Embedded PPP over Ethernet
Precise ATM traffic shaping
VPN for data protection over Internet (IPSec and PPTP Pass-through)
IP packet routing/filtering
Routing protocol supports RIP-1, RIP-2, Static Routing
NAT, DHCP client/server support
PAP/CHAP authentication, administrative passwords through Telnet
Built-in MIBs for SNMP management
Upgradable flash EPROM firmware
Web-based GUI for easy installation and setup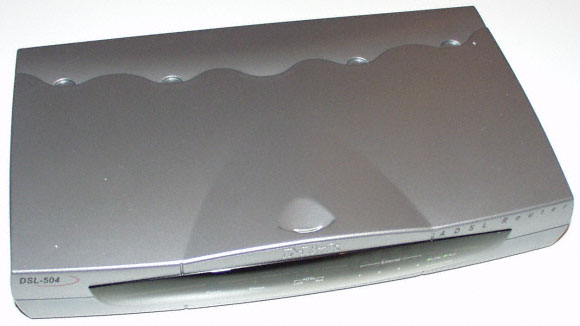 Top down view of the DSL-504
Jeremy Ainsworth

The contents of this review should not be relied upon in making a purchasing decision—You should always discuss your requirements with your service provider and hardware supplier.