ARCHIVED CONTENT
This content is being maintained for reference purposes but is not being updated.
The DSL-200 is D-Link's equivalent of the popular Alcatel SpeedTouch USB (a.k.a. the "slug"/"frog") supplied by BT for the majority of USB ADSL installations in the UK. This guide will show you how to get the DSL-200 up and running and what we think of it.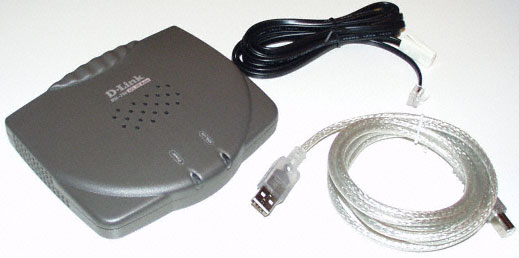 The router, USB cable and RJ-11 ADSL cable (see note below)
Installation & Setup
The ADSL cable provided with the trial product from D-Link (shown in the photo above) was a modem cable instead. It has a BT plug on one end which will certainly not work if plugged into the POTS side of the BT filter. If you are a wires only customer, the DSL-200 should work without the need for a microfilter. You can just plug into the phone line and the modem ignores any frequencies used by the telephone.
The DSL-200 is powered by the USB bus and consumes 2.5 watts which is a fair amount. It complies with USB 1.1 standards and is G.dmt, G.lite and G.hs compliant. Before connecting the DSL-200, insert the installation CD and run setup. Select "WAN" connection mode. Other options are "LAN" and "ATM" for a direct, permanent connection (not used with BT ADSL). We also use PPPoA in the UK with VPI (Virtual Path Identifier) of 0 and VCI (Virtual Channel Identifier) of 38.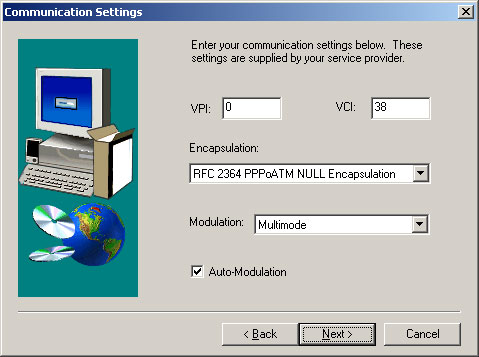 After installation, plug the modem in, Windows will install the device and you're ready to go.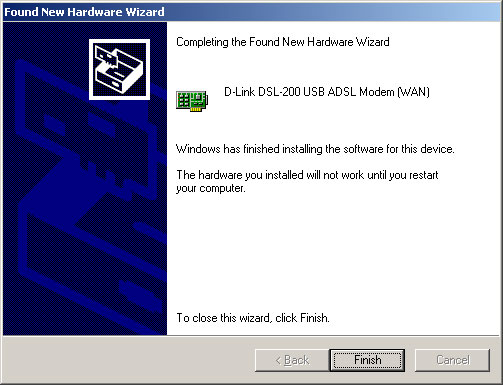 Windows Hardware Installation Wizard
Connecting to your ISP is done using Dial Up Networking. Although the modem will never actually "dial up", it fools Windows into thinking so. Enter any phone number you want, it's not used. Windows XP comes with a new connection type designed for broadband modems which does not require values such as the phone number. When you click "Connect", Windows will pass the username and password to the DSL-200 which establishes a connection.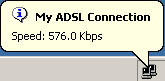 Established Dial Up Networking connection
The "Connection Control Panel" is a homemade program if ever I've seen one. The "Data Activity" indicators operate in a binary fashion and when on, stay on for about a second. It is impossible to tell whether you're running at 500Kbps or 1 bps and I failed to get one indicator (transmit or receive) alight on it's own.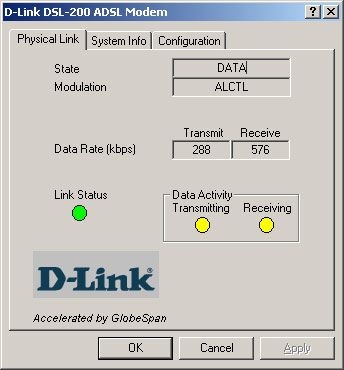 Connection Control Panel Application
The configuration tab provides the option to switch modulation type etc. (if required). The Control Panel software will also show information about your link status, modem software version (firmware) and upstream/downstream data rates.
USB Bus Bandwidth
The DSL-200 will run at speeds up to 8Mbps downstream, 0.6Mbps upstream which means that it consumes 8.6 of 11 Mbps (78%) of available bandwidth through a single USB 1.1 compliant controller. Side note: USB 2.0 cards are also available - they support 1.x devices and have around 480Mbps bandwidth.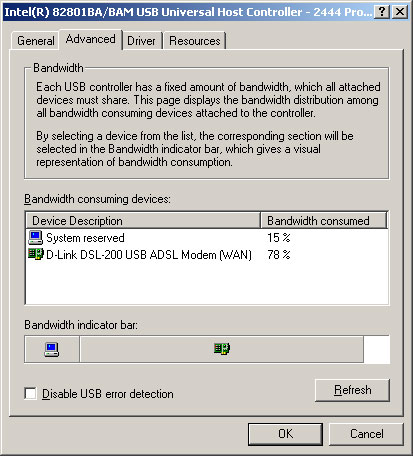 USB Bandwidth Consumption
When connecting other USB devices such as a joystick, I received the following message:


Not Enough USB Bandwidth Available?
Fortunately, my Intel USB controller consists of 4 USB ports (actually split into two controllers) so I can run other devices at the same time. Users who do not have multiple controllers may be faced with bandwidth problems and will need to purchase a separate USB controller adding to the overall cost. See links below for information about additional USB controllers.
Response Times, Connection Speed and Stability
Connection speed is as good as you can get with the DSL-200, no problems there. Response times were down to 20ms - extremely encouraging. No stability problems were found during the one week of usage; the modem behaved perfectly.
Maximum Speeds:
DMT full rate downstream: up to 8Mbps

DMT full rate upstream: up to 640Kbps
Verdict
The DSL-200 has been designed to work in any country, with any possible network environment thrown at it. It supports a full range of modulation, encapsulation and connection types which perhaps explains it's relatively high price. With all things taken into account, the DSL-200 is a worthy investment and will continue to provide service as you upgrade the speed of your ADSL line into the future. You're likely to become bored of this modem before it becomes outdated!
Update 1st March 2002: Price changed to £105 (from £185) making the DSL-200 much more attractive to buy.
---
Jeremy Ainsworth

The contents of this review should not be relied upon in making a purchasing decision—You should always discuss your requirements with your service provider and hardware supplier.