ARCHIVED CONTENT
This content is being maintained for reference purposes but is not being updated.
Introduction
The DrayTek Vigor 2200USB was mentioned on ADSLguide news back in April 2001. It is the first and only product on the market which allows users to connect their existing hardware (Alcatel SpeedTouch USB) to provide an ADSL connection in combination with a fully functional Ethernet router. The product will be on the market October 5th 2001 and is suitable for any user with ADSL from BT with the Speed Touch USB. DrayTek are marketing the Vigor2200USB as a solution to non 'wires-only' customers who want to replace the problematic USB configuration with a stable Ethernet equivalent.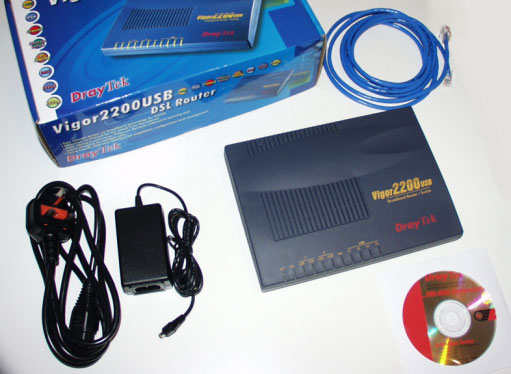 The Kit - Installation CD, Ethernet cable, AC power adapter, box and router. Final product will also include a manual.
The Vigor2200USB boasts a full range of features including an inbuilt 4 port 10/100 switch (most products on the market only feature a hub), true Virtual Private Networking (VPN) support in combination with IPSec for secure virtual office / teleworker configurations, inbuilt firewall and packet filter, NAT, DHCP, DNS, port forwarding and more.
The review of the Vigor2200USB was carried out using an unstable 'release candidate' firmware (v1.07c and RC5) which crashed a number of times mainly while using the web interface. I was supplied with a final release version towards the end of the review which did not cause any further problems.
Installation
If you want a straight forward installation process, this is the router for you - I was up and running in 5 minutes. Be prepared to follow first time instructions in the manual - the installation process involves uploading the latest firmware from the CD to the router before connecting the Speed Touch USB. For those who avoid the manual at all costs, you will unfortunately have to read through these first-time steps. The switch uplink button is very small and inconvenient - have a pen ready. You'll also notice the presence of an additional USB port which will be used for peripherals such as ISDN backup or a webcam in the future. DrayTek have not released any information about supported devices at this time.


Rear connectors from left to right: Reset switch, power switch, power connector, 4 port 10/100 switch, uplink button, 2 USB ports.
Initial Setup
The web interface is good looking and in general, easy to use. From this point onwards, technically proficient users will seldom need refer to any documentation.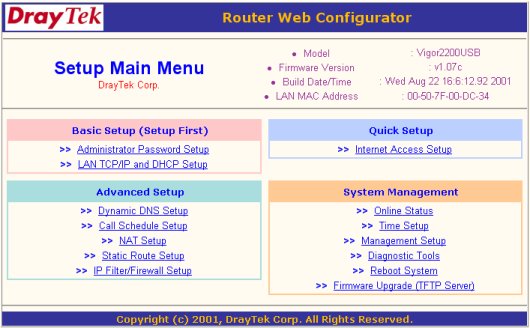 Web Interface -- Main Menu
ISP login settings are fairly standard on the Vigor2200USB with the option to specify an idle timeout if you so desire. The "Modify" button under "DSL Modem Settings" was non-functional in the firmware version I was using. I would have liked to see a better online page with the TX and RX counters displaying bytes instead of packets. SNMP information can also be queried for use with statistics software such as MRTG.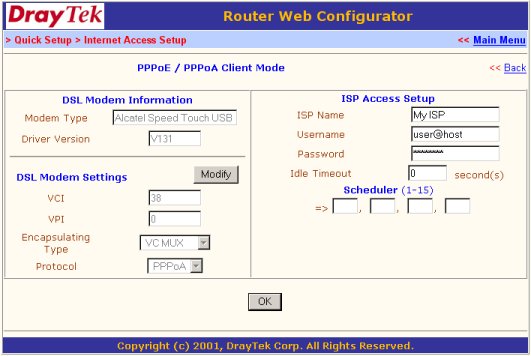 Web Interface -- Internet Access Setup menu
The router maintains a persistent connection to your ISP and will initially connect upon any trigger such as a web page request. The command line provides detailed connection logging information about any issues that may occur. The LEDs are informative, showing the status of your connection and which computers are connected to the inbuilt switch.


Status Indicators: ACT = link activity, DSL = using ADSL connection, USB = port in use, LINK = connected
The Vigor2200USB utilises a 'set' and 'rule' IP filter/firewall system which is good news because it allows you to redirect the firewall to a different set of rules if one is triggered (e.g. if somebody wants to connect to a web server, a new set of IP access specific rules can be followed). The router is secure out of the box and the IP filter/firewall provides all the additional functionality you would expect. Again, DrayTek have placed a lot of emphasis upon ease of use.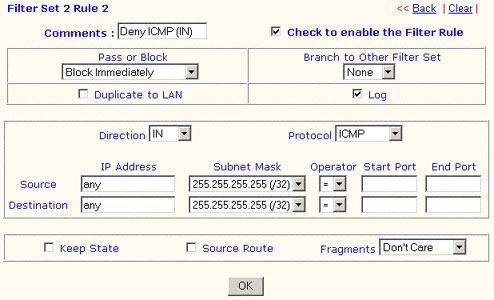 Web Interface -- IP Filter configuration pane
The Vigor 2200USB supports DHCP however it's fairly limited. The web interface will allow you enable/disable and specify the number of IP addresses to allocate from a start point. The command line interface doesn't provide any more options. You can assign static IP addresses (MAC address basis) but cannot specify additional attributes such as a WINS server or IP address exclusions. For the average SOHO user, this is adequate.
The router also supports a Virtual Private Networking connection to another Vigor2200USB. A secure 'tunnel' is created between the two hosts employing IPSec (strong encryption). This allows small businesses to connect their local area networks together saving money on leased lines and other expensive equivalents. Remember that VPN connections will operate at 256kbps max due to ADSL upload speeds at both ends.
Response Times and Connection Speed
The Vigor2200USB improved response times by about 10ms (from 30/40ms to 20/30ms) to my ISPs network. Connection speed was not affected and file downloads continued to run at 60KB/s downstream, 28 to 30KB/s upstream.
Verdict
The Vigor2200USB is a professionally designed, easy to use product suitable for home/small office environments. Its ease of use and great performance shines through from day one. DrayTek have aimed for a product which will provide a solution for almost any situation with a quick and easy setup process. Be aware that some features are limited in their configurable options and take note that the command line is not intended to replace the web interface. I recommend this router to anybody with ADSL and the Speed Touch USB.
---
Jeremy Ainsworth

The contents of this review should not be relied upon in making a purchasing decision—You should always discuss your requirements with your service provider and hardware supplier.