ARCHIVED CONTENT
This content is being maintained for reference purposes but is not being updated.
This review covers what is currently (March 2002) the cheapest fully fledged ADSL modem/router in a single combined box - with VAT and delivery it weighs in at £83 and £93 for a 4 port model ( AMX-CA64E) , both with 10/100Mbps support. The review is based on the single port device and is available from http://www.dabs.com under Quicklinx code 17P7WS ( 4 port is code 17P8WS ). So what do you get for what seems very little money? Well as the picture shows the normal power brick and a standard RJ11 modem lead, i.e. with BT plug on one end for use in a phone socket - yes this device works without a micro-filter, so long as any phones on your line are filtered. Plus there is a rudimentary manual that covers things like default router password and how to set a PC up to communicate with the device.
What is it supposed to do - well quite a lot actually, it's a basic ADSL modem with G.DMT and PPPoA compatibility and a simple NAT router and as a bonus a USB port that allows you to connect to a USB device - this makes it ideal for people who perhaps have no network card at present - more on the USB later. The observant will notice there is no console port or reset switch - which means if you potentially lose web access to the device you will be stuck. The front panel is a myriad of flashing LED's with a total of 6, slightly oddly the Ready LED flashes permanently, with the Show Time LED indicating that the ADSL is up and running - the LINK LED is useful since the Ethernet port on the router is configured the same as a PC, meaning if you link it direct to a PC you will need a crossover cable or if using a network hub, it will plug into a normal port using a straight cable.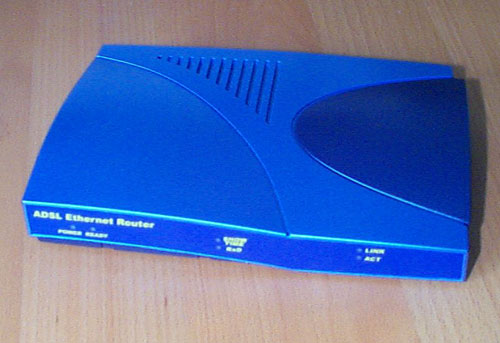 Configuration
OK so you've unpacked it, plugged an Ethernet cable what to do now - well page 13 of the manual shows how to set-up your PC to use DHCP or how to set a static local IP if you want to and then to perform a basic ping 10.0.0.2 test, otherwise known as the ping of life. Once you've got this going then it's a case of accessing the web configuration and stumbling your way around - the manual doesn't really cover the UK settings for the router, fortunately screenshots from all the configuration screens are available from http://www.farina1.com/amx which makes life a bit easier. The trick is to start at the WAN configuration and work your way down the screens, i.e. WAN/LAN and Virtual Server configuration. The Virtual Server is their name for port forwarding also a full DMZ set-up is available via the miscellaneous screen. A big note and one that isn't obvious - a lot of the set-up screens have a submit button, this sends the settings to the modem but to commit them to the configuration you need to press the Save Settings option on the left hand Configuration pane - if your rushing you can miss this, hitting the Save Settings causes the router to reboot - with it returning to your control after around 30seconds to a minute, you will here a small relay switching when it reboots. For those who want to change the routers IP configuration, this can be accomplished under the LAN configuration menu, I switched from 10.0.0.2 to 192.168.0.1 since my network was already on this subnet.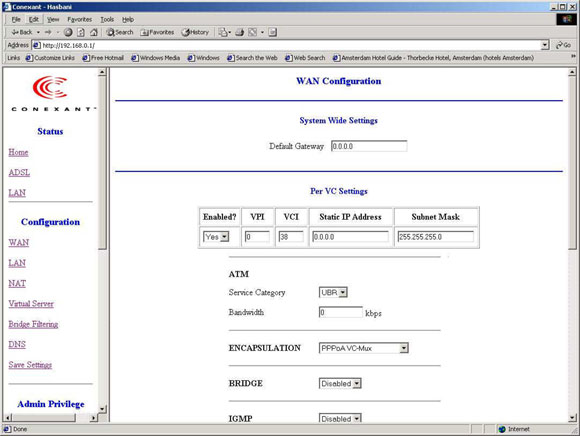 The set-up is as complex or simple as you make it, you can be online is 10-15 minutes - depends how many port forwards you want to set-up. One area that perhaps needs changing is under the Miscellaneous Configuration option, the WAN side configuration HTTP/FTP/TFTP servers are supplied as enabled, we advice that you set this to disabled, other wise you may have unexpected visitors fiddling with the modems configuration. One additional word of warning the HTTP configuration even if disabled in the configuration, still results in a socket connection been possible, i.e. security scanners will find the page but if you attempt to actually connect you get a http connection forbidden message, so it is still secure.
The port forwarding is fairly basic with just single port definitions allowed, but there is the option of setting a DMZ up to forward all the ports to a single PC. One nice feature and is useful for assessing faults is a simple Diagnostic Test which provides some tests between you and the DSLAM, plus tests of the TCP/IP layer, plus the ADSL status shows your dynamically changing line attenuation which seems to tie in approximately with the BT woosh test, and also displays the more normal CRC statistics. Another minor oddity of the router the Elapsed time seems to reset every hour, a firmware bug that doesn't seem to affect anything else.
USB Configuration
This router is almost unique in supporting simultaneous USB and Ethernet connection, this means if you have two PC's one can use a network card and the other a USB cable, no cable or drivers are supplied but a set of suitable drivers is available from http://www.farina1.com/megaspeed
The procedure to get the USB side up and running is:
Switch on the router - let it settle down for a few seconds
Plug the USB cable from the PC into the router
Windows should auto detect new hardware, namely a USB Net Card - if it detects an MSN broadband modem, unplug the USB lead and try again.
Wait for the Found New Hardware Wizard to appear - this took a few minutes on my laptop.
Once the wizard is running simply point this to the unpacked zip file that had the drivers in it, and viola it should pick the drivers up and be happy.
In Windows 2000 the modem shows up as an additional network connection, with the name of Conexant USB Network adapter, and is automatically configured to use DHCP, which just seems to work and allocates a NAT'd dynamic IP address to the PC. In use the USB connection seems to work fine, it gave me identical DOS pings on two Windows 2000 machines, i.e. one on USB and one on Ethernet. The CPU load seemed reasonable ( a 650Mhz Pentium III ), even when doing a download at 60KB/sec the CPU load only rose to 5%.
Performance
The router has been surprisingly flawless running 24/7, once configured it goes on doing what it should, the configuration GUI has a few rough edges e.g. the elapsed time but that doesn't detract from day to day performance, the USB link is a bonus and appears stable - well on the configuration I tested - I suspect that with the modem having it's own PSU helps in this respect. Gaming and browsing seemed up to normal speeds - with no delays and Counterstrike didn't seem to stress the beast at all, both during play and a full server list refresh.
Verdict
Amazingly good value for money and a reasonably easy router to configure if you have access to the list of generic terms that UK ADSL needs. The case design is a pleasant change from the normal boring boxes - though does feel a little flimsy and one construction concern is the RJ11 socket which feels a little flimsy i.e. if your brutal I can see the socket breaking, but I've hot swapped the router with a number of others and it seems to be happy.
What the device lacks is a retailer who is able to support it properly, especially with regard to firmware upgrades for it, I suspect the modem is how it will always be and wont develop much via firmware upgrades. But we are talking about a router that is £30 cheaper than the nearest competitor at this time, which is a lot of money at the budget end of the market. If you do order one of these modems be prepared for a wait, with it's features and price it falls right into the basic USB modem price bracket, so is bound to be very popular.
So in summary a good value purchase that will do what most people need, but could do with some UK specific documentation from the supplier.
---
Prices:
£79 inc VAT - single port model (Dabs.com Quicklinx: 17P7WS)
£90 inc VAT - 4 port model (Dabs.com Quicklinx: 17P8WS)

Where to buy:
See our DSL Hardware FAQ
Andrew Ferguson
[email protected]
The contents of this review should not be relied upon in making a purchasing decision—You should always discuss your requirements with your service provider and hardware supplier.