Openreach announces 10,500 premises of full fibre for Barking Riverside
Wednesday, April 5, 2017 12:23 PM
Unfortunately it is not every day that we can talk of 10,500 premises getting access to full fibre (Fibre to the Premises) broadband, but for those who eventually move into the Barking Riverside development this will be the case.
The UK only needs another 2,600 or so announcements like this, bringing full fibre to existing premises to get the UK to be true global broadband leaders in the full fibre space race.
The Barking Riverside development is a 20 year long project, and will comprise of 460 houses, 9,000 flats and 1,000 businesses all with access to full fibre, which currently has retail speed options of 38 Mbps to 300 Mbps and 1 Gbps is just around the corner.
"We are delighted to be working in partnership with Openreach to deliver some of the fastest fibre broadband in the UK to over 10,000 homes across the Barking Riverside development."

Ian Millard, Technical Director at Barking Riverside Ltd
Delivering full fibre to new build premises makes perfect sense, and given previous announcements about using FTTP for new developments of more than 30 premises it is of little surprise, but always welcome. The area does already have some FTTP available to the West of where we expect the new development to be, and almost every day we find new little clusters in various towns, cities and rural areas across the UK, thus while today we are tracking 315,000 Openreach FTTP premises in a few days that number will have changed again.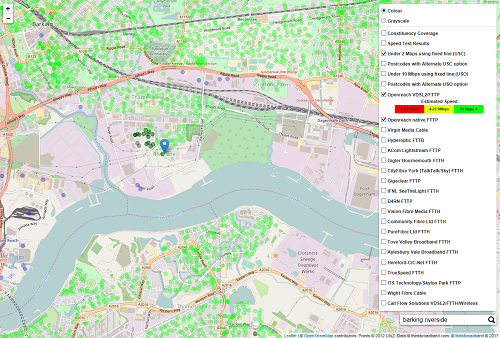 Click image for larger version Browse the
map with VDSL2/FTTP and public speed test results
As there is no postcode data assigned yet the map does not include the new development yet.
Comments
Post a comment
Login
Register