Gillingham sees first live G.fast connection go live
Tuesday, March 14, 2017 10:29 AM
Gillingham took part in the early G.fast trials, but now a book keeping business has become the first live G.fast connection in the United Kingdom.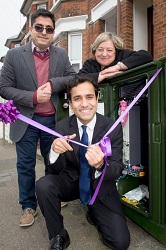 Click image for larger version
The business is Temiz book-keeping Ltd and is now enjoying ultrafast connectivity from the G.fast pod attached to the side of cabinet 9 in Gillingham as shown in the picture above.
"All our client data is stored in the Cloud. Having ultrafast speeds means we can download and upload that data instantly – however many client accounts we are working on at the same time.

Upoading heavy data files could take a couple of hours with the speeds we had before but now we can achieve the same in a matter of minutes – it is a big time saver.

We are in the process of building a website for the business which will allow clients to log into their own accounts and use the book keeping facilities. We are also looking to open another office in London to help us attract new clients in the City and take on another partner so that we can offer an auditing service. It is a new and exciting time for us and having ultrafast broadband provides the platform to do all this on. It has given us the confidence to go ahead and invest in the future of the business.

Mehmet Uzum, who runs Temiz book-keeping Ltd
The is the start of delivering the option for 10 million premises to connect using G.fast by 2020 and a further 2 million premises to be able to order GEA-FTTP. The cabinet 9 is a fairly typical urban one and the slowest connection looks likely to be 150 Mbps for those ordering G.fast, the area also has a heavy Virgin Media presence so commercially provides a very good indicator of how the service will stack up against the main competitor which is cable broadband.
The two million FTTP premises is starting to show up in terms of more city centre, exchange only and business areas with FTTP indicated as on the way, but if you are already served by a VDSL2 fibre cabinet it is likely you will only see G.fast.
The Broadband World Forum Openreach stand had a pair of G.fast pods with the doors open back in 2016, and we've cropped the photos to let you see inside both a Nokia and Huawei variant.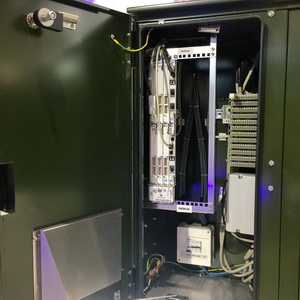 Click image for larger version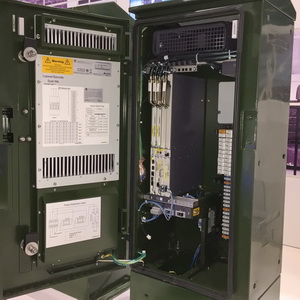 Click image for larger version
G.fast leverages a spare fibre from the VDSL2 cabinet, and cross links a power feed from the same cabinet, hence it will only at this stage be rolled out as pods to cabinets that have a VDSL2 twin. Thus it is very much sweating existing assets but this should produce a favourable outcome in terms of the speed of the roll-out. Our coverage tracking will reflect if G.fast is available when doing a postcode search as we add the various enabled cabinets and while we have built a model based on a mixture of theory and limited visibility of trial speed tests we will revisit the distance range model later in 2017. The model works such that if a cabinets footprint is large enough we fall back to using a VDSL2 estimate in coverage tracking and a map layer for live G.fast areas will appear in the next month or two.
Comments
Post a comment
Login
Register