Speed and latency problems for Virgin Media users to some destinations
Tuesday, March 7, 2017 4:59 PM
Virgin Media users have been having a bad few days with their broadband connections, though it is a bit confusing as the problems don't affect all Internet sites and services equally.
The symptoms are that during the week latency rises by 20 to 30ms between the hours of 4pm and midnight to our Broadband Quality Monitor tool, and we are also seeing a significant drop in the observed download speeds from our speed tester.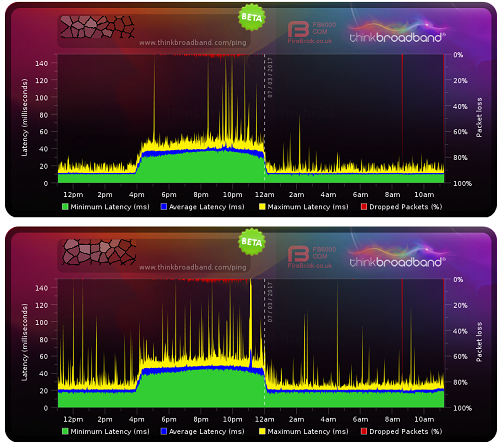 Click image for larger version
Normally congestion issues only affect a proportion of Virgin Media customers, but from looking at the full set of monitors it looks as if all Virgin Media cable broadband customers are affected. Looking at the trace route activity to and from Virgin Media customers a handover from Virgin Media to LINX (London Internet Exchange) looks like it is congesting badly (long thread on Virgin Media community forums discussing latency).
We have cross checked with other broadband providers and nothing other than the usual variation in BQM results is apparent, i.e. this blip is unique to Virgin Media.
The effect on speed test results is very noticeable, the average download speed between 4pm and midnight on Tuesday 6th March was 16.8 Mbps (upload average 4.1 Mbps, TCP latency 105ms) and at the start of March on Wednesday 1st in the same time period it was a more normal 48.3 Mbps download average speed (upload 6.3 Mbps, TCP latency 77ms. The maximum speed test seen was also affected, the best seen in the 8 hour period was 160 Mbps down, compared to 305 Mbps on the 1st March.
Other speed testers are sometimes affected, a lot depends on the routing to the site, something the average user will not normally worry about, we can serve our data for the speed tester from an alternate location but that would simply mask what is an issue for customers on Virgin Media.
What is odd is that the times change at the weekend, suggesting that maybe there is something changing in the core network configuration, or that people are suddenly doing lots of stuff at the same time each day, but as they are home at weekends the timings alter.
"Having reviewed some network data samples this does not appear to be an issue affecting all of our customers. This could be related to specific network equipment we but are currently investigating this further to determine the exact cause and solution. We apologise to any customers affected and hope to have this fixed soon."

Comment from Virgin Media spokesperson
A Virgin Media community moderator posted on Sunday that the provider was looking into the problem.
Update 4:55pm The original article was drafted at midday and shared with Virgin Media to give them some time to respond prior to publication which they have done. We have also checked to see what the situation is with regards the latency issues, and on cue at 4pm there was a rise similar to the previous days, but after a few minutes when the latency had risen by 10ms the latency returned to normal. This effect has been observed across all the BQM graphs that we can see, fingers crossed this means someone has fixed the root cause, we are currently still seeing speed tests in the 50 to 100 Mbps region so that side is looking better than Monday evening too.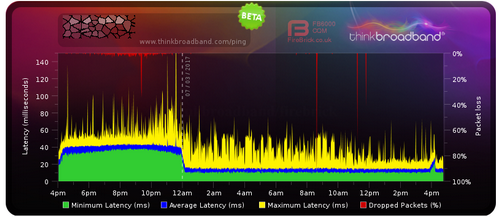 Click image for larger version
Comments
Post a comment
Login
Register