Boundless Networks tests ultrafast wireless broadband in Bradley
Monday, February 20, 2017 4:01 PM
The joy of technology is that it rarely stands still for long and Boundless Communications is proudly announcing itself as one of the first companies to test fixed wireless broadband than can deliver Internet access at speeds in excess of 160 Mbps.
The new ultrafast service has been tested in North Yorkshire, more specifically Bradley which is just to the south of Skipton.
"Being able to go way beyond the Government's target of 30Mbps is a huge benefit to rural communities. Not only can we deliver the superfast target, we can futureproof the service so that children in rural areas, like Bradley, don't need to play catch up with their classmates. Wireless ultrafast broadband is able to deliver this and Boundless is leading the way in delivering it."

Boundless Networks Chairman David Hood
We do see Boundless customers on their usual superfast services in the area, but no sign of the ultrafast customers, we have asked if they can get some customers to test and then we can see how the service behaves. The existing superfast services have three main residential packages, ranging from £20.99/month for a 10 Mbps service through to £44.99/m for the 30 Mbps service.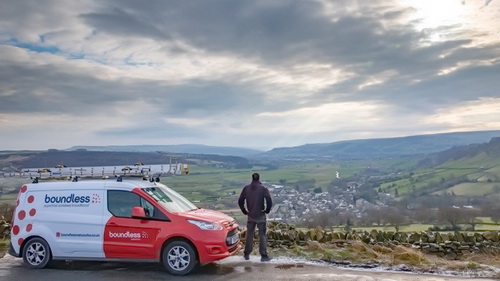 The village in the press release is described as 'the village suffers from traditionally poor broadband services with the majority of homes and businesses not able to access speeds in excess of 10Mbps through the traditional phone line method' which is an odd description given that the core part of the village which is obvious in the photograph is serviced by VDSL2 from cabinet 5 on the Crosshills exchange and was a commercial cabinet that went live in 2013. Of course VDSL2 has its range limits so those living on High Bradley Lane and Jackson's Lane as you head North East and South East out of the village are likely to be sub superfast.
As a location for a test bed to see how popular unlimited ultrafast wireless broadband is compared to standard superfast services the choice of location is ideal and a lot will hinge on the price of the ultrafast packages.
We have a couple of details for the geeks out there, service is using the 5GHz frequency band with a 40 MHz channel and the customer mast is based around the Mimosa C5 devices.
Comments
Post a comment
Login
Register