Openreach digital maps making hope to PIA easier
Tuesday, February 7, 2017 9:59 AM
A big change from the Ofcom once a decade review of BT and Openreach was a push to improve Physical Infrastructure Access (PIA), essentially to create a version 2 that was simpler and cheaper to make use of. Those who have been in the broadband game for over a decade will recall similar with LLU, which worked on a small scale but took several attempts until the right formula was arrived at over a couple of years, and this led to the explosion that was TalkTalk who started the UK down the phone and broadband bundle route. For those not aware of PIA, it is about giving third parties access to the existing duct and pole network that Openreach has and at a set of regulated prices.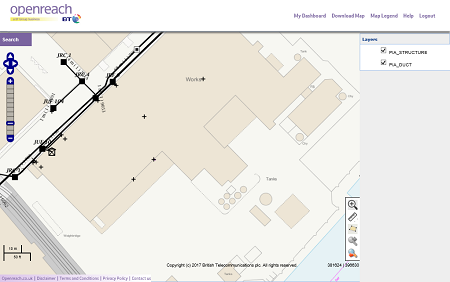 Click image for larger version
Openreach is promoting its latest enhancement to the PIA process which is that verified communication providers will have access to online maps of infrastructure in areas and while the new system is not exactly a click and order portal it will allow operators to determine what assets are involved between two locations and thus make planning roll-outs to areas or single custom builds a lot simpler. Compared to old school methods of paper records, fax or email we are certain the new system will get a lot of interest, the question is whether it will generate actual roll-out of fibre to the premises for millions of homes, or as we suspect be used more for helping to reduce the costs of deploying business fibre connectivity. The online portal follows closely on the heels of changes to the PIA processes that have been in trial since Summer 2016 that moved to full launch mode in January.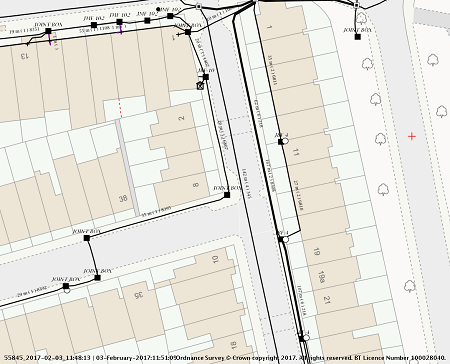 Click image for larger version
"This is another important development in our plans to give greater access to our network and encourages other companies to join Openreach in building better, broader and faster communications services for the whole UK.

As our infrastructure already exists, CPs will be able to build and expand their fibre network in far quicker timescales than if building it from scratch. The mapping tool further enhances that process – giving CPs exactly the same level of access to our network data as Openreach.

Our ducts and poles have been open to these companies for several years, and Ofcom has been clear that the price to access them is in line with international comparisons, but they haven't been used on a large scale to date. We hope that these new, simpler processes – which have been designed and developed in partnership with the industry – will encourage more companies to invest, particularly in parts of the UK that aren't already served by high-speed networks."

Clive Selley, Openreach CEO
Comments
Post a comment
Login
Register