Big drop in BT share price over BT Italy scandal
Wednesday, January 25, 2017 11:36 AM
BT Group PLC saw a big drop in its share price on Tuesday 24th January as the news emerged of a write down to the value of £540m against its operations in Italy as the result of improper accounting and various practices.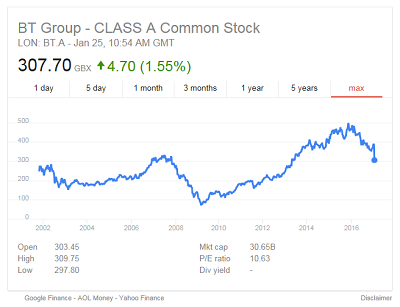 Click image for larger version
Check
Google share price tracker
to view price over different time periods
The size of the drop is evident even when you look at the share price all the way back to 2002, and comes towards the end of a tough year where since February 2016 when the initial Ofcom review on the separation of Openreach from BT Group PLC started in earnest the share price has taken a steady downward path. On the Ofcom review we are still waiting for concrete action.
The levels of cash or investment available to the BT Group are important, as so far they appear to be the only ones stepping up to the challenge of a Universal Service Obligation though whether the conditions attached would be palatable to the Government is a big unknown, and while this news should have zero impact on existing BDUK contracts, the dynamic may change over time on how flexible or not BT is with regards to extra work around clawback and gap funding in community schemes.
The Government is pinning its broadband hopes on a pure fibre future, but while Openreach remains the largest FTTP operator in the UK the health of BT is important. Some of the pressures that are thought likely to feature in the next set of financials are pessimism over revenue from the UK public sector and this may be the result of CityFibre with the increasing number of metro fibre contracts with local authorities.
So far BT has kept its major shareholders on board with good dividends and while investment via Openreach is criticised for being too small, without major investors stepping up to say they are happy to support decade long investment plans of a several few £billion in a split or more functionally separate Openreach it is difficult to see Openreach doing much more than its existing plans of G.fast for ten million and FTTP for two million premises for a few years.
One advantage of the share price dropping might be that a full split to create an Openreach PLC is easier financially or conversely is more difficult depending on how you view the pension and other debts. The lower share price carries the risk of asset strippers moving in and while lots of people moan about BT sweating its assets now, groups looking to make a killing selling off the individual parts of the group are going to care little about that.
One aspect of Brexit that may impact on any firms plans to rapidly expand its pure fibre footprint is that the labour force for the tasks involved seems to already be under pressure, and sourcing cheaper contract labour from Europe to increase roll-out speeds may not be possible or not at a cost that is attractive. The reason why some Eastern European countries have high FTTP/B availability is the speed at which apartment blocks can be upgraded and where digging/trenching is needed the costs of doing so are much lower.
Comments
Post a comment
Login
Register