Airport Wi-Fi Results - Nov 2016
Friday, February 3, 2017 12:54 PM
Airport Wi-fi is a critical service to the travelling public looking to get their Internet fix before boarding their flight and turning phones and gadgets into 'airplane mode'. For business travellers, it gives an opportunity to finish some work, and those heading on holiday can upload content to social media or download some music, TV shows or films to watch whilst on board.
Back in September 2015, we visited the five major UK airports (Heathrow, Gatwick, Stansted, Luton and London City) to test the free wi-fi services which each of the airport operators offered. Stansted led the field in terms of speed offering a service at 8.1Mbps downstream, with Luton and London City managing only half that at 4.5 and 4 Mbps respectively. Heathrow scored 1 Mbps on its free wi-fi whilst Gatwick only managed to deliver a measly 0.5 Mbps.
| Airport | 2015 | 2016 |
| --- | --- | --- |
| Stansted | 8.1 Mbps | 6.4 Mbps |
| London City | 4.5 Mbps | 2.7 Mbps |
| Heathrow | 1.0 Mbps | 1.0 Mbps |
| Luton | 4.5 Mbps | 0.9 Mbps |
| Gatwick | 0.5 Mbps | 0.4 Mbps |
In a repeat of these tests, carried out in November 2016, we went back to each of these five airports to find not only that speeds had in fact dropped! Luton droped from 4.5Mbps to 0.9Mbps although extended its free Wi-Fi time from 90 minutes to four hours.
It is worth noting that there are often other free wi-fi options in airports, including cafes and restaurants, which were not tested as part of this research, although from experience these can range from similar speeds to much faster services.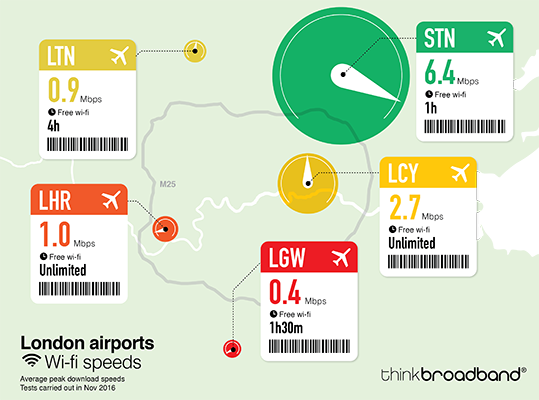 Click image for larger version
Airports can rely on wi-fi data to analyse traffic flows through the airport, but airports also often require you to register to use the free wi-fi service so build up a database of users to which they can target advertising. Heathrow Airport also gives you access to a faster 3Mbps Wi-Fi service if you login using Twitter, or sign up to its Heathrow Rewards programme.
Comments
Post a comment
Login
Register