Ofcom publishes study on SMEs and communication services
Thursday, January 5, 2017 11:10 AM
The SME (Small Medium sized Enterprise) sector is sometimes overlooked as part of its remit to ensure it is regulating the communications market appropriately Ofcom has published a new set of research looking at how SMEs utilise broadband and communication services. This latest survey was conducted over the phone with some a sample of 1,501 SMEs in May to July 2016 and then weighted to allow for modelling to represent the full UK SME market.
Beyond the use the research data will be in understanding how use modern communication services, for the many providers selling services to the SME sector the data laden report is a gold mine that may help to drive sales.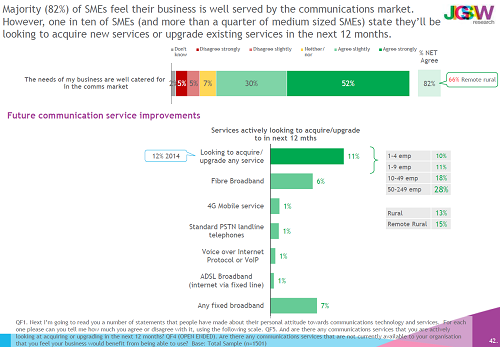 Click image for larger version
The initial summery of the report indicates that while 82% of SMEs are well catered for by the comms market the Internet is still a problem for some and those that do have Internet connections are very reliant on them, and ADSL is bottom of the pile in term of speed and reliability in the fixed broadband area. That ADSL is at the bottom should be no surprise to anyone who follows the market and our monthly round-ups of speed tests and the occasional summary on the quality metrics we track, worryingly while superfast (cable, VDSL2 or FTTP) is now available to some 92% of premises in the UK ADSL is still the preferred connection type. We did read the research and while we can find segments where those surveyed seem to know better is available, no precise reasoning is given for why they've not upgraded or is there any verification of what was or was not available broadband wise to those surveyed (i.e. was the sample while representative of UK SME scene, also representative of the availability of good broadband).
The research indicates that only a small number of SME (6%) are looking at upgrading to a fibre broadband (VDSL/FTTP/cable) service, we say small as with some 67% using ADSL or SDSL there is clear scope for a big change. What was a surprise was that while the fibre/superfast take-up at 23% is only lagging a little behind overall take-up, only 5% of SME are using cable broadband which given its ultrafast capabilities suggests maybe that it is less about headline speed and more about provider choice and connection stability.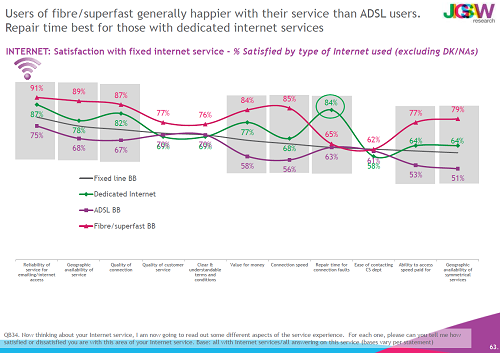 Click image for larger version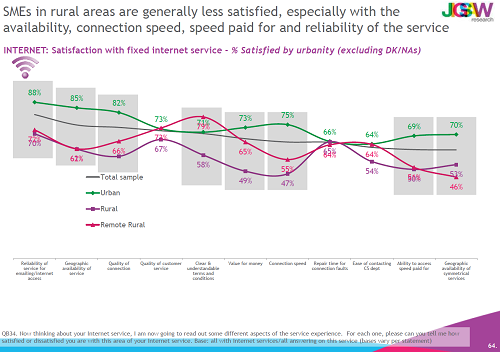 Click image for larger version
The story varies a lot depending on where a SME is located and those businesses operating in rural and remote rural areas are only 62% satisfied with the availability of fixed internet service compared to 85% of their urban counterparts. This increases a little to 70% in rural, 72% remote rural and 88% when asked about reliability for emailing/internet service. Since the research uses the classical rural/urban definitions which means we can align the report with our own coverage data, where GB Deep Rural aligns with the Ofcom remote rural definition.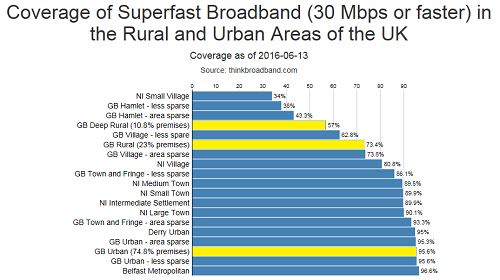 Click image for larger version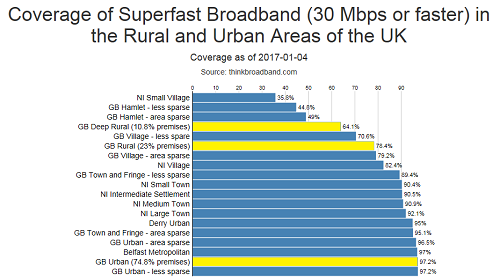 Click image for larger version
In the months since the survey was conducted you can see that deep rural availability of a superfast service has increased from 57% to 64.1%, in rural areas as a whole its gone from 73.4% to 78.4% and in the much better served urban parts of the UK from 95.6% to 97.2%.
If there is a key lesson we believe from this research it is that the SME sector may need much more pro-active help to make them aware that a better service is available, and more of the providers serving the SME sector need to be encouraged to offer a wider variety of products.
We would all love for every address in the UK to have access to full Gigabit symmetric broadband in the next year, but what is very revealing in pages 99 onwards in the report where businesses detail what they use their Internet connection for and email is top of the pile at 95%, ordering goods/services 84% and online banking just 71%. HMRC features pretty high at 65%. Cloud and back up services which will often benefit from faster upload speeds are just 29% and 33% respectively and video conferencing is propping up the stack at 9%.
What is needed now is a study with the same rigour to look at what changes in Internet use similar businesses make when much faster connectivity is available and is being used. If this new study shows lots of potential for business growth and success then the tightly controlled value for money criteria of existing BDUK projects may need to be re-evaluated when dealing with business areas.
Comments
Post a comment
Login
Register