Sky pushes average speeds to the front of its product advertising
Wednesday, December 21, 2016 12:59 AM
Vodafone was the first provider to go with inclusive line rental pricing and it seems Sky is keen to be seen as the first to use average speeds in its product advertising. Though while we have had the communication saying the speeds are changing today (21st December) the Sky product pages are still showing the old figures.
The use of average speeds is something that the ASA and CAP are investigating, but with the first major provider switching ahead of any decision we may see pressure build and providers arrive at a consensus without the need for any new regulations. Alternatively we may see months of confusion as people get confused as to why Sky services appears slower than others when in reality there should be very little difference in connection speed if the same technology is used between providers (NOTE: Broadband hardware and choice of DLM settings can have some effect, DLM was generally more variable with ADSL2+, but even with the limited three DLM settings providers can control on VDSL2 some people do see differences).
The new speeds that people should start to see are:
ADSL2+ products previously advertised as up to 17 Mbps are now an average speed of 9 Mbps
Fibre (VDSL2) product with an up to 38 Mbps download speed is now an average download speed of 34 Mbps
Fibre (VDSL2) product with an up 76 Mbps download is now an average download speed of 60 Mbps
IMPORTANT While shifting to an average means more people should see something at the average or better (we don't know if figures are median or mean yet), it does not mean the underlying technology has changed or existing services will get slower or faster. The most important speed is still the personal estimate once you have shared your location information with Sky at the time of ordering.
The question now is how well will this change be received and what the reaction of other providers will be, certainly one can foresee some interesting advertising battles about who is the best. The danger in those sorts of battles is that providers may vary how they collect the data to arrive at the average or worse start to refuse service to customers who will be seen as unduly lowering the potential average.
We have for a long time now covered the average (mean, median and other percentiles) for the providers and as such the new average speeds are not a big surprise in terms of the figures used, hopefully Sky will answer some of the questions we've asked such as how is the average figure arrived at and is this IP throughput or connection speed.
Sharing some of the speed profile data from the November 2016 speed test results, allows you to see the sort of spread of speeds people receive from Sky.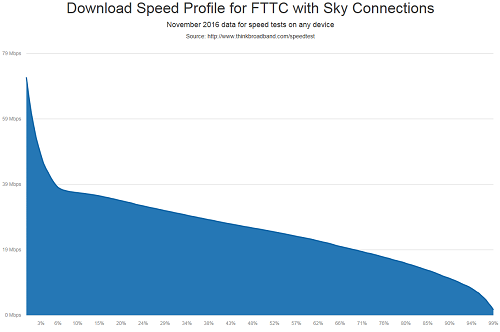 Click image for larger version
The customers on the existing up to 76 Mbps service are clearly visible, but are a fairly small number of customers. The Sky FTTC services may suffer from more wireless degradation than other services due to main CPE still being an 802.11n only device, with the problem being less to do with the n standard Wi-Fi and more to do with congestion in the 2.4 GHz band. For those curious we do of course have the upload profile which with the lower upload speeds seems less affected by things like Wi-Fi.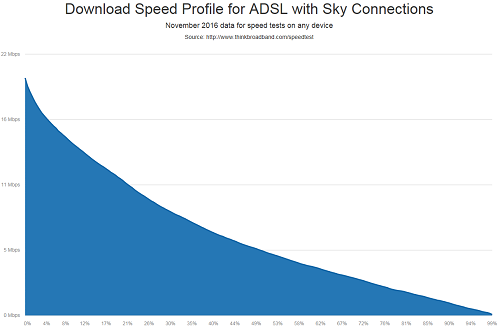 Click image for larger version
The ADSL2+ profile is somewhat simpler as their is just the one product and thus the download speeds follow a fairly predictable pattern that long time broadband followers will be familiar with. To give an idea of the difference or not Wi-Fi makes, we can also view a combined plot of FTTC and ADSL2+ but with all the testing people do on mobiles and tablets eliminated. The combined plot gives a rough idea of the relative popularity of different products at Sky too.
In other Sky product news, the fibre products are shifting to an 18 month contract for new sales and this we are told means 'fibre customers can now enjoy great offers for a longer period of time due to extended contract lengths', though it seems the main offer on fibre is only on the 25GB allowance fibre product at £20/m including line rental (oddly other channels are suggesting £27.40/m which is the existing price - thus as usual once everyone makes it to the offices and irons out the creases in the new pages and offers we will check again and update our offers. One other small change is that the fibre set-up fee is rising to £59.95.
We hope that once the dust settles that Sky (and all the other providers) will be clear about the upload speed associated with various products, as all too often it takes either intimate knowledge of their product range or lots of digging around to find it out.
Update 10am The average speeds are based around Ofcom owns analysis which was published in March 2016, and is based on analysis of testing from SamKnows monitoring units in November 2015. The SamKnows testing for Ofcom is based around 2,000 testing units spread across the major providers and products, which gives a very detailed set of data for each line and then mathematical modelling is used to scale this up to be nationally representative i.e. take into account the variation in line lengths. The number of products to be tested, i.e. at least two for each of the 5 major providers, means the performance of around 200 lines goes into the average. Up to speeds are not disappearing from Sky advertising but both will be mentioned where space permits.
There is also a new Sky Broadband Tech Team, which is building on the existing customer call centre support model by adding specially trained engineers who can attend customers premises.
"Faster and more reliable internet is becoming ever more important for our TV customers. That's why we are offering Sky Fibre at such a brilliant price, exclusively for our Sky TV customers, alongside launching our new, dedicated Broadband Tech Team, so they get the best service in town."

Lyssa McGowan, Director, Communication Products, Sky
While we are sure the Sky team is excited about a 25GB monthly allowance on a 34 Mbps average speed connection, given this allowance vanishes after watching 5 to 10 films depending on the quality and the fact that previously this product has been on offer for £17.40/month you will forgive us for being a lot less excited. The £20/m for the 25GB fibre package when doing the checks to update our listing appears to be only available to Sky TV (new or existing customers).
Comments
Post a comment
Login
Register