UK languishing in the digital slow lane
Wednesday, December 14, 2016 10:19 AM
5G may be the next great hope for universal mobile broadband but it is also going to need a complete rethink for how its deployed if the existing 4G slow and not-spot problems are to be avoided. The National Infrastructure Commission has waded into the debate on how good or bad the digital infrastructure of the UK is, particularly with regard to the existing 4G services.
"The Commission's central finding is that mobile connectivity has become a necessity. The market has driven great advances since the advent of the mobile phone but government must now play an active role to ensure that basic services are available wherever we live, work and travel, and our roads, railways and city centres must be made 5G ready as quickly as possible.

Government and Ofcom must ensure that essential outdoor mobile services – such as basic talk, text and data - are available wherever we live, work and travel:

Britain is 54th in the world for 4G (the typical user can only access 4G 53% of the time), there are too many digital deserts and partial not spots, even within our city centres.
Government and Ofcom should develop a meaningful set of metrics to that represent the coverage people actually receive and use these to determine a mobile Universal Service Obligation so that consumers can access essential services where they are needed.
Government and Ofcom should deliver this as a soon as is practical but no later than 2025."

National Infrastructure Commission of UK mobile landscape
The data from OpenSignal is reliant on its crowd sourcing and its maps are viewable at opensignal.com and with the many data points collected via its app thus it easy for individuals to assess how their local area stands or whether more data might be needed.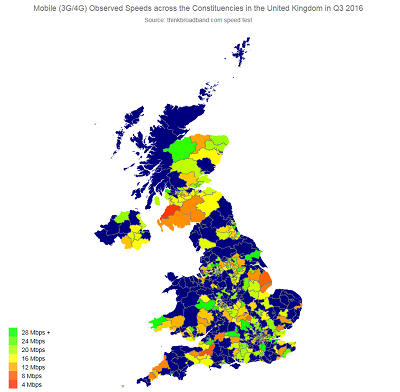 Click image for larger version
We also have a good chunk of data on mobile broadband speeds too and while the mobile map does have a number of holes (dark blue areas are those where our data volume is low or we have no data), either due to no decent signal or a lack of people testing in the areas where we have enough data to talk about you can see there is a wide variation in speeds. For those who have enough data allowance (and each test will download 40MB of data on a 30 Mbps connection, plus upload a similar amount, slower connection less data, faster more data) there is a version of our speed test that will ask for permission to use browser location information and if you keep the browser page open after a test has finished it will automatically run another in 10 minutes (NOTE: For those accessing via a desktop browser the web app is likely to complain about poor geo-location, this version works best on a device with GPS).
One problem with making the UK 5G ready is that no one actually knows what density of masts are needed and 5G means lots of different things, e.g. the a chunk of 700 MHz spectrum would be ideal for low data rate signalling as part of the Internet of Things and for covering road/rail network, but the ultrafast connectivity is going to need the higher frequency spectrum and thus more masts, at the extreme end the multi Gigabit speed tests research labs are posting if they are to be more than click bait will need almost a mini mast in every room.
The 4G and spectrum auction debate in the UK has taken an interesting turn with the recent start of a Make The Air Fair campaign which is pushing hard to get the Ofcom CEO Sharon White to enact rules ensuring that no single operator can hold more than 30% of the spectrum. Certainly a lot of the current coverage issues stem back to the expensive 3G licence auction, and the way EE and BT combined now hold 45% of the mobile spectrum. An equal split is interesting, but there are technical issues as if you sub divide the bands too much so that everyone ends up with a fair share in each band and no provider will be able to match faster services of even today on 4G. If Ofcom were to go ahead with the plan that three, CityFibre, Relish, TalkTalk and Gamma are calling for then it should also consider ways to force operators who how existing spectrum to provide a national service, or relinquish that block of spectrum i.e. run a cap but also a use it or lose it policy.
Comments
Post a comment
Login
Register