More Gigabit fibre in a £4.54m contract for Herefordshire and Gloucestershire
Friday, December 2, 2016 9:43 AM
The Fastershire project which covers the roughly 350,000 premises of Herefordshire and Gloucestershire is likely to award a £4.54m contract to Gigaclear to deliver pure fibre to some 2,600 of the hardest to reach premises across the counties.
The contribution level from Gigaclear is unknown, but this may become clearer when an actual contract is signed rather than a recommendation, but the contract value of £4.54m represents £1,730 per premise which is believed to be close to the cap that value for money rules allow under the BDUK contracts.
"Access to a fast and reliable digital connection is becoming more and more important for families and businesses here in Gloucestershire and right across the UK.

We're making a real difference to peoples' lives, enabling the fibre network to reach some of the most rural areas where larger suppliers were not prepared to go. Faster broadband connection remain a priority to our economy, education and supporting our communities. The Fastershire project is pushing the boundaries of the technologies available with this next stage a key step in meeting the ambitions of the two counties.

That's why phase two of our Fastershire project focuses on using new and emerging technology to deliver full fibre solutions to some of the hardest to reach premises across the county.

Cllr Mark Hawthorne
The two counties are not too backward with pure fibre coverage Herefordshire has 8.19% availability of FTTP, and Gloucestershire is running at 4.77% (1.64% via Openreach). The footprints this represents are shown below and at first glance you would expect the coverage to be much higher based on the number of postcodes served, but many of the postcodes only comprise a handful of premises.
Gigaclear Footprint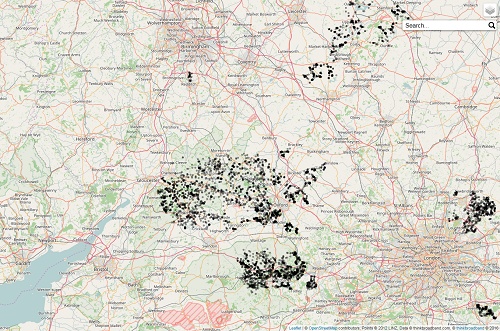 Click image to zoom in
Openreach GEA-FTTP Footprint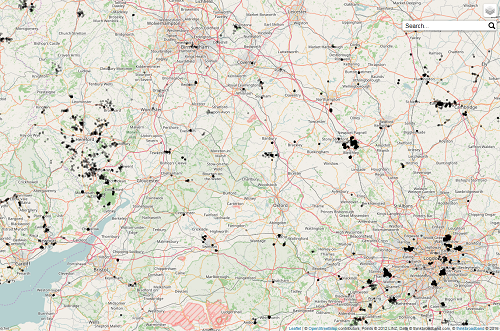 Click image to zoom in
Browse map of these and other FTTH operators
2,600 premises represents around 0.7% of the two counties, so while for individuals this will be a massive change in broadband abilities in the bigger picture it is just one small part of the puzzle.
Interestingly the Councillor David Harlow in the press release talks about Herefordshire having 15% coverage of FTTP, which is at odds with our own figure of 8.19%. If one uses the Ofcom 2015 data (coverage as of summer 2015) they claim a coverage figure of 13.6% of premises for faster than 300 Mbps, so we presume this is the data used. The difference with our own figure is some 5,600 premises and based on our analysis of the area we believe that the Ofcom data and the councillor may be including a good chunk of Openreach FTTP that is still in the build stages or just planned, we endeavour to only include premises where GEA-FTTP is available to order (some random checking does support this hypothesis too and an example is HR9 7RT which shows our data for the postcode, along with the Ofcom 2015 data, i.e. we tag premise as connected to a live cabinet but a long distance away and no FTTP and we suggest VDSL2 will be slow or non-existent, but Ofcom claim 92% of postcode can get 300 Mbps or faster and checking the sales checkers reveals no VDSL2 option and no FTTP.
Update 3pm We pushed Herefordshire to the top of the review stack and after a sweep of the county have revised our coverage figure for Openreach native FTTP to 9.13% (our coverage site has updated with the new figures and postcode information). There are a fair number of places where Ofcom claimed ultrafast availability but the build process is still ongoing, and in a good number it seems a VDSL2 cabinet has been put in place, and in others no sign of any work at all.
Comments
Post a comment
Login
Register