£400m fund aims to kick start FTTH roll-out to 2 million premises
Tuesday, November 22, 2016 9:43 AM
Has the Government been shamed into funding a pure fibre roll-out?
Ahead of the Autumn Statement it has been revealed how much money will be in the Digital Infrastructure Investment Fund, a concept that was mooted in 2015 but never got the money needed. The sum of £400m is apparently considered enough for 2 million premises of FTTH/FTTP or if you prefer headline ready superlatives hyper-fast or pure fibre gold standard broadband. Call us boring but call the technology what it is rather than try and find a fluffy name for it.
This is not a give away, investment funds usually have to be returned under various conditions and our understanding at this time is that operators seeking to access the fund would need to match fund and/or access commercial investment.
Two million premises is around 6.8% of UK premises but it all depends on alt-nets and smaller operators drawing down on the fund and some may prefer to continue as they are operating on their own community funding, or borrowing from commercial investors. BT as part of its 12 million ultrafast premises roll-out is aiming for 2 million FTTP premises and Virgin Media recently announced that 2 million of its Project Lightning roll-out would also be FTTP based. Combined this is potentially coverage of 20%, and with the addition of others like Hyperoptic, KCom, Gigaclear, IFNL, Community Fibre, B4RN and others something in the 20 to 25% might be possible a lot depends on the degree of overlap.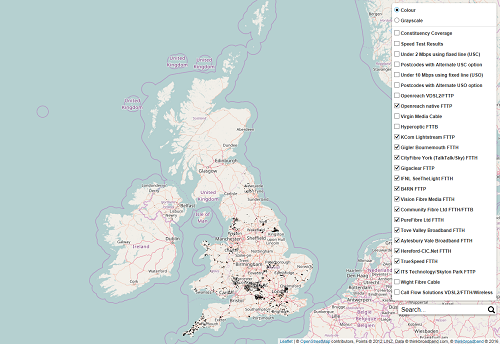 Click image to zoom in
Interactive map showing multiple FTTP operators in the UK
The current situation of 1.94% FTTP coverage is shown above, and looking at it you wonder how that can be just 1.94% of UK premises, and the answer is a good number of the postcodes in rural areas comprise just one premise.
There are some calls that this money is being spent wrong and should not be spent on pure fibre, but rather on those who get the slowest speeds i.e. the 230,000 getting under 2 Mbps and the 1.1 million under 10 Mbps. The difference with this fund versus the previous BDUK project is that it will be down to the operators where they deploy, and given that Openreach VDSL2 has held up reasonably to competition from Virgin Media with 200 and 300 Mbps speeds one would expect the smaller providers to focus more on the market where high take-up rates are guaranteed.
A key point is that this fund is not about building more backbone, numerous wholesale options for that already, but delivering the fibre directly into the homes and offices of businesses. Additional points are how long will the fund be accessible for and what time frame are operators expected to deliver within and are there minimum speed targets i.e. its perfectly possible to deliver FTTP but only sell a 50 Mbps service.
Will this stimulate BT to do more? Well that all depends on the other announcement that is expected soon, i.e. will Ofcom pursue a full separation of Openreach from the BT Group or accept the half-way house deal on the table? If anything the availability of investment money for smaller operators and the excitement this announcement is generating suggests that a full separation could be a step too far, i.e. an unleashed Openreach given access to ready funding would be able to dominate the access market even more than it does now, or put another way by being tied to the older BT Group it has lots of legacy commitments, but a live or die on its own feet would demand and probably be given more freedom to deliver what TalkTalk, Vodafone and Sky have been campaigning for.
Comments
Post a comment
Login
Register