Gaps in DVB TV spectrum to bring better broadband to Arran
Friday, November 11, 2016 10:24 AM
The Isle of Arran that has a resident population of around 5,000 people is set to enjoy a new fixed wireless service and we believe 25 premises already are using it. Broadway Partners trading as Arran Broadband is making its service available on the island and with the low frequency bands used which means obstructions are less of an issue everyone on the island should stand to get the service.
TV Whitespace is something that has been toyed with in several trials, and if the whitespace information pages on the Broadway Partners website reflect real world experience then speeds of 10 to 35 Mbps may be experienced and technology improvements may increase the speeds again. Based on much older trial experience we thought speeds of the order of 10 Mbps were more likely, so we wait with baited breath for real user speed tests to start appearing and as its shared spectrum how it copes as take-up increases.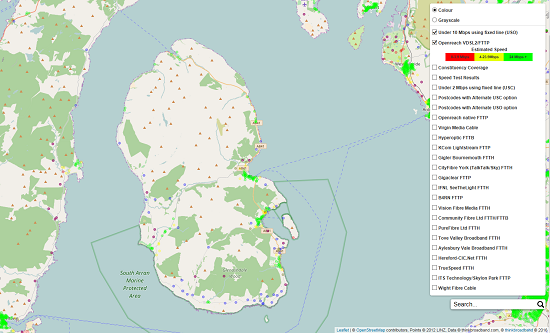 Each dot is a postcode, with red/green/yellow denoting our modelled speed for VDSL2 to a postcode for live cabinets via HIE project. Blue dots are other postcodes under 10 Mbps, a slow VDSL2 postcode can also be blue.
If the whitespace roll-out had took place 18 months ago residents of Arran would have stampeded to get the service, but VDSL2 has arrived in a big way with most of the larger population areas now having cabinets live as reflected by our maps and availability checker. The big advantage of the whitespace system is that distant lone croft that does not even have a phone line should be able to get service once a small external antenna has been fitted (the antenna may be a TV style one or a 30cm, 40cm or 50cm dish).
The service pricing is £25/m for an up to 25 Mbps down and 2 Mbps upload service, or £35/m for a faster up to 35 Mbps with 3 Mbps upload on an initial 12 month contract. Installation is £200, but for those who qualify for a Better Broadband voucher (i.e. only sub 2 Mbps available) they get install for free (we count 17 postcodes this should apply to). Alternatively the £200 fee can be deferred as an extra £10/m on top of the monthly charges. The T&C PDF features a monthly 100GB fair usage limit on download traffic and it appears torrenting is equal to illegal streaming of copyright material as you will have your service terminated and made to pay any outstanding contract costs.
While we welcome bringing much better services to those who for years have only had satellite broadband as an option, the 100GB usage limit might be a stretch for those renting out properties (the islands population increases to 25,000 in the holiday season) and sharing a connection.
Comments
Post a comment
Login
Register