Up to £80m of funding for Superfast Cymru project roll-outs in 2018 onwards
Monday, November 7, 2016 2:22 PM
Superfast Cymru has accounced the level of spending that will be available for delivery work that starts in January 2018 and onwards, with a fund of up to £80m, comprising £20m from Wales itself, £20m from EU structural funds, £37m as a part of the gain share dividend and £2m outstanding commitment from UK government towards new superfast broadband project.
So far apparently £162m of public has been spent in Wales for the broadband roll-outs and a further £62m is expected to be spent between now and the end of 2017. This has taken Wales from 43.4% superfast coverage in December 2012 to 88.3% today and this is using the speed qualifier of 30 Mbps and faster.
Update: Tuesday 8th November We asked Welsh Assembly Member Julie James about the target for this extra spending, and was told that "its to get to all properties in Wales who wish to have broadband" and in a follow-up it was confirmed that the definition of broadband used was a minimum speed of 30 Mbps.
How far will Superfast Cymru get towards 100% superfast coverage? Certainly lots of the press today are saying the latest round of spending will produce a 100% superfast nation by 2020, but when reading the actual press release from the Welsh Government it does not explicitly say this and we suspect it really means 100% with access to 10 Mbps or faster (with a prevailing wind this might mean 15 Mbps minimum). A lot of the confusion arises from the variations in words like fast broadband, high speed broadband and a project name of Superfast Cymru. As with other Government broadband projects once ambitions have become actual signed contracts things should be clearer, but the confusion will reign for years after that giving critics quotes to throw around to claim projects have been an abject failure.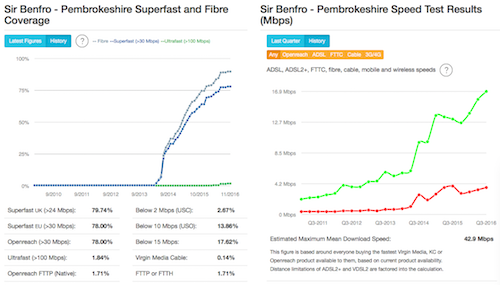 Pembrokeshire while lagging behind the overall Wales figures, shows the pace of the roll-out and also the marked difference between 'fibre coverage' and superfast coverage (89.8% versus 78%) and importantly it looks like people are buying and using the services as the pace of availability change is mirrored neatly in the overall average speeds for the local authority. The distance issues that arise from VDSL2 in Pembrokeshire highlights why it looks unlikely that the spending will take Wales to 100% superfast by 2020, unless a LOT more FTTP and many additional infill VDSL2 cabinets are deployed and this may prove challenging within budget and time constraints. The current Welsh roll-out is sitting on a long list of areas where FTTP is in build, perhaps 1-2% of Wales premises, but the extra hours of work involved compared to enabling VDSL2 at a cabinet means it is taking longer than many would like.
Update Tuesday 8th November How likely is 100% coverage at 30 Mbps and faster? Well if the roll-out can continue at the same pace another 5.5% of superfast coverage should be added to the total in a years time, taking Wales to 94.8% (VDSL2/FTTP coverage would be sitting at around 98-99% at that point). If the roll-out to 100% is via Openreach and fixed line tech, then adding another 5-5.2% in 2018 and 2019 looks feasible using a combination of small VDSL2 nodes, FTTP and infill VDSL2 cabinets.
Update Wednesday 9th November Adding the most relevant extracts from the statement made by the Minister for Skills and Science.
"To re-iterate the gain share clause allows Welsh Government to benefit from the success of our investment in BT's network via the Superfast Cymru project. Our share is invested in a fund to be either reinvested in the project, or returned with interest, to Welsh Government in 2023.

We anticipate, based on detailed modelling, that the Superfast Cymru investment fund will eventually yield between £30 million and £50 million by 2023 as take-up of fibre services funded by our investment reaches between 35 per cent and 50 per cent over that period.

We will support this activity through our commitment to provide £20 million over the next four years to support this activity and to leverage significant additional investment.

We are in the early stages of discussions with the Welsh European Funding Office to secure a further £20 million of Structural Funds to continue the roll-out of superfast broadband. We remain confident that the funding will be available, subject to WEFO approval, as a result of the UK Treasury's guarantee to honour EU bids approved prior to the UK's exit from the EU.

We will continue to press the UK Government for additional investment in Wales that builds on the success of Superfast Cymru and contributes to UK Government policy goals. We also have an outstanding commitment from the UK Government of £2 million towards a new superfast broadband project.

Taken together Superfast Cymru will be underpinned by a public sector budget of up to £80 million which in turn, will leverage private sector match funding to further extend broadband coverage to the hardest to reach premises across Wales by 2020.

The Access Broadband Cymru scheme will continue to play a part with a further £1.5 million over the next two years to ensure that this vital lifeline operates in parallel to Superfast Cymru and successor projects with equivalent funding in place to extend for a further two years beyond 2018.

We will launch an Open Market Review this month to establish at a premises by premises level where superfast broadband has been delivered to date and where the market plans to invest over the next three years.

We will also engage with the telecoms market over the next weeks and months to help shape and inform our intervention area and procurement strategy.

In developing the next intervention, value for money will continue to be a priority and I need to remind members that we cannot provide fibre connectivity at any cost.

Part of Statement by Julie James AM, Minister for Skills and Science
The picture in Wales is a rapidly changing one, and so our map of postcodes where only fixed line services below 10 Mbps are available will change, how much it will change depends on the existing contract with BT. While the public consensus is that BT has cherry picked all the easy areas leaving widely dispersed areas too small for alternative operators to bid, as things stand at this time there are plenty of areas in Wales that look ripe for one of the alternative FTTH operators. The question marks are over the amount of match funding needed and whether Wales will want a single national contract or will split into smaller areas following the path that Devon and Somerset has adopted, to attract a wider range of solutions.
Comments
Post a comment
Login
Register